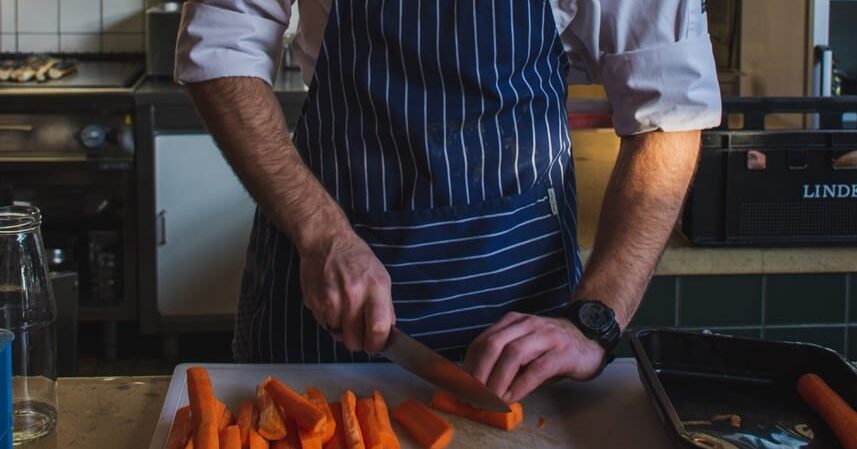 Knife brands aren't exactly something we talk about in day-to-day conversation, and unfortunately, the internet is littered with hundreds of knives that claim to be quality but are in fact manufactured with poor quality, cheap materials.
Whether you are an aspiring professional chef yourself, or just a home cook looking for good quality knives for your kitchen, I'm writing this article to help you choose the same knives most professionals use.
I'll talk about the types of knives professional chefs use and which brands are the most popular with chefs, why they are so popular amongst professionals, and which particular knives from their range I would most highly recommend.
The two main brands used by professional chefs are Wüsthof and ZWILLING JA Henckels. These are both German brands that use good quality stainless steel. Their durability makes them popular for professionals as knives are put under increased strain in a professional kitchen, both with the pressure of use but also the constant moisture and temperature variations.
My Personal Favorite
I think the Wüsthof Classic 8-Inch Chef's Knife is the best professional knife.
You can view it on Amazon here (opens new tab)
Types of knives professional chefs use
There are two main types of knives which professional chefs will use, the chef's knife and the paring knife. The chef's knife is the most used of all the knives and can be used for 90% of kitchen tasks. Paring knives are small and used for more intricate cutting and peeling.
Along with those, there will also be a range of specialist knives chefs will use, often depending on their cuisine speciality. They may use a filleting knife for fish preparation, a serrated knife for bread and a carving knife for larger joints of meat.
However, nearly all chefs will frequently use the popular chef's knife (the clue is in the name!) and paring knife.
Chef's knife

View on Amazon (opens new tab)
A chef's knife is used for most tasks in the kitchen and is typically the go-to tool when cutting meat, fish, and poultry, dicing up fruits and veggies, or mincing up fresh herbs such as garlic or chives.
Typically, with an 8-inch blade length (although sometimes 6 and 10 inches), the cutting edge of the blade has a curve, allowing for quick rock-chopping, perfect for quick chopping. Chef's knives are strong and robust, made for durability.
It is by far the most popular knife amongst professional chefs, and if you're looking to mimic the tool you'd find in a professional kitchen in your own, then a good quality chef's knife is the very first investment you should make.
Paring knife

View on Amazon (opens new tab)
Pairing knives are small knives used for more delicate food preparation. They are a good tool for peeling vegetables and slicing small fruits.
When chefs spend (seemingly) endless hours peeling a pile of potatoes ready for service, they are usually using a paring knife.
A paring knife is much smaller than a chef's knife and are often called a utility knife. The blade length ranges from 2.5 to 5 inches, allowing the user more control over the blade.
They are an important tool when it comes to the more delicate jobs, and you'll find one in every professional kitchen, but their uses are not as far-ranging as the larger chef's knife.
Knife brands professional chefs use
As mentioned above, the two most popular knife brands for professional chefs are Wüsthof and ZWILLING JA Henckels.
For this article, I'm focusing on chefs in the western world, mainly The USA and Europe.
In other parts of the world, like Japan, the most popular brands vary; however, in the West Wüsthof and ZWILLING JA Henckels dominate in professional kitchens.
If you like watching those cooking competition shows on TV you'll probably also notice that, more often than not, the knives they are using are from one of those two brands as well.
Wüsthof
Wüsthof is one of the most well-known and largest knife producers in the world. It has a history dating back over 200 years and is based in German.
They specialize in classic western design. These designs are tried and tested, as a result, they are comfortable to use and well balanced, vital if you're a chef preparing food for hours on end.
Wüsthof knives are also well-known for their durability. They always use good quality stainless steel and have a good amount of flex.
That means the knife won't rust unless it's treated extremely badly. In professional environments that is vital as knives will constantly be exposed to varying moisture levels and different temperatures.
Wüsthof knives are at the higher end of the scale in terms of price, but their durability easily pays for that extra price. A Wüsthof knife can last for decades, even if it's not looked after particularly well, which makes them a fantastic tool for professional chefs that just need a 'workhorse' knife that they can rely on.
ZWILLING JA Henckels
ZWILLING JA Henckels are popular with professional chefs for all the same reasons as Wüsthof. They generally use very classic design, tried and tested to perform in professional environments.
The materials they use are chosen for durability, these knives last and can take a hell of a lot of pressure without chipping, bending or having the handle warp in high temperatures like many other knives.
These two brands are so popular with professional chefs because they are reliable, they have built their name on reliability and just like in any profession, chefs need reliable tools.
There are sharper knives, there are knives that use a higher quality stainless steel, but both Wüsthof and ZWILLING JA Henckels have found a great balance of a highly reliable, durable knife, that has a sharp enough edge for professional kitchens but is also tough enough to withstand the pressure that comes in that environment.
The difference between ZWILLING JA Henckels and JA Henckels International
ZWILLING JA Henckels are a German brand. You might see some knives labeled as 'JA Henckels International' without the 'ZWILLING' brand.
JA Henckels knives without the ZWILLING brand are not as premium and are manufactured outside of Germany in places such as Spain and India.
They are still decent knives but they are not of the same premium and professional standard as the ZWILLING JA Henckels line.
Which is better, Wüsthof or ZWILLING JA Henckels?
The first thing I'll say is that Wüsthof and ZWILLING JA Henckels make knives using a similar concept.
They make classic designs, using durable materials to create a comfortable and reliable knife. Either one of them is a good choice.
Which you prefer is somewhat down to personal preference. But I will tell you my favorite.
Personally, my preference would be Wüsthof. I think the design of their knives is more comfortable, I prefer the curve of the blade on their classic chef's knife and I find the materials to be of slightly better quality.
Both are undoubtedly great brands and I don't think you'd be disappointed with either, part of what makes them popular is that you get exactly what is promised by the manufacturer, a classic and reliable knife.
But if you just want the best knife that's commonly used by professional chefs, I would recommend you go with a Wüsthof knife.
My Chef's knife recommendations
I've written quite a lot about my favorite chef's knives on this website, so I'll leave some links to those articles at the bottom of the page.
But if you're looking for a Wüsthof or ZWILLING JA Henckels knife specifically then one of these two would be my recommendation.
Wüsthof Classic 8-Inch Chef's Knife

View on Amazon (opens new tab)
Wüsthof Classic 8 Inch Review Table
| | |
| --- | --- |
| Country of manufacture | Germany |
| Steel type | X50CrMoV15 (Very durable German steel) |
| Rockwell hardness | HRC 57 |
| Factory edge | 15 degrees (double bevel) |
| Handle material | POM (thermoplastic) |
| Pros | One of the most durable knives available |
This is my favorite chef's knife of any brand. It's a classic design but it's perfectly executed.
The steel used is a german steel called X50CrMoV15. You'll often find this steel used in quality western knives.
The reason for its popularity is because it's durable. The 15 in the name stands for its 15% Chromium content. Chromium is the element that makes stainless steel resistant to rust and a quantity of 15% makes this a high-quality stainless steel.
The Carbon content is 0.55%, that's not enough to make it high carbon (I only consider knives above 0.9% at least to be truly high carbon), but the advantage of that is again that it makes the steel more durable, steel with a higher carbon content tends to be more brittle and the 0.55% content is still enough for a 15% cutting edge which is very sharp.
The blade is perfectly curved for rock chopping and goes full tang into the handle, with a full bolster.
The handle is triple riveted and made from a thermoplastic, making it extremely durable and resistant to temperature change, moisture, and really anything that could harm it in a kitchen environment.
For me, this is the best chef's knife on the market. It's ideal for professional chefs but even an eager home cook would find this a great tool to have in the kitchen.
Zwilling J.A. Henckels Pro S 8 Inch

View on Amazon (opens new tab)
Zwilling J.A. Henckels Pro S 8 Inch Review Table
| | |
| --- | --- |
| Country of manufacture | Germany |
| Steel type | X50CrMoV15 (Very durable German steel) |
| Rockwell hardness | HRC 57 |
| Factory edge | 15 degrees (double bevel) |
| Handle material | POM (thermoplastic) |
| Pros | Durable materials and classic design |
Zwilling is one of the world's giants of German-style chef's knife manufacture. They make knives which are classic in design and this 8-inch chef's knife certainly has that traditional western style design.
The steel used is a friodur steel using X50CrMoV15. This is the process of ice-hardening steel by putting it through a four-step process in which it is frozen to -94°F.
This process makes steel exceptionally hard and corrosion-resistant. The steel is also a high carbon German stainless steel and all these features combine to make an extremely durable blade that can be sharpened to a very fine angle and has fantastic edge retention.
Talking of the edge, the blade is sharpened to a 15-degree angle which is pretty much as good as you can get on a western-style knife and it will feel razor-sharp.
The blade has a full bolster and full tang going into the handle. The handle is very classic in design with rounded edges so no single part digs into your hand. It is triple riveted and black in color and made from a thermoplastic called Polyoxymethylene, this makes it very resistant to any water damage or temperature changes and adds to the durability of the knife.
The balance between the blade and the handle is perfect and although it comes with a full bolster and full tang the knife doesn't feel particularly heavy. It looks like a professional chef's knife as it uses some of the best materials and knife making techniques you'll find in western style knives.
Further articles including Wüsthof and JA Henckels knives
For more professional chef's knives check out:
Best Professional Chef's Knives (opens new tab)
For chef's knives on a budget check out:
Best Value Chef's Knives (opens new tab)
For knife sets, including a Wüsthof and JA Henckels set check out:
Best Knife Sets Under $200 (opens new tab)