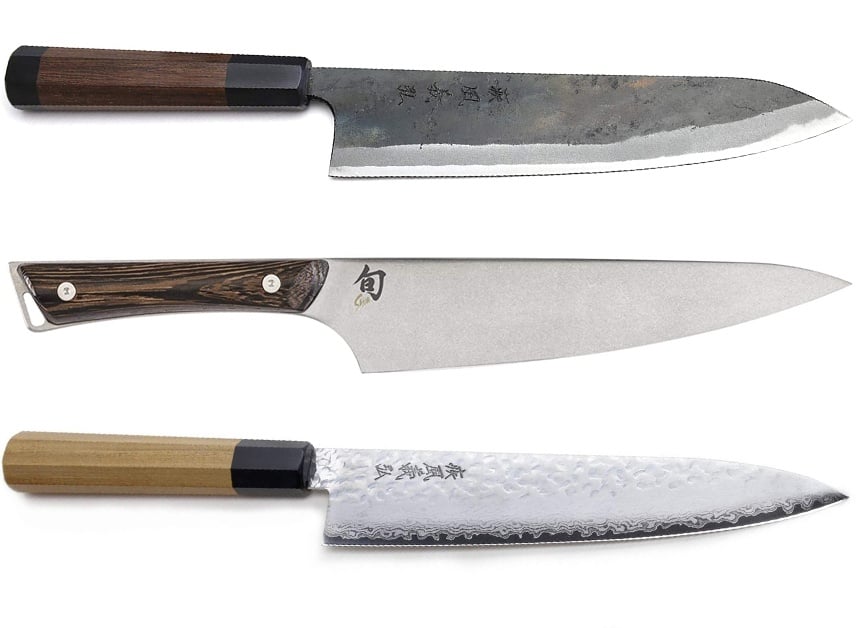 Gyuto knives are a Japanese knife; however, their design has been based on western philosophies of creating multi-purpose knives, a knife that can handle a range of tasks.
Traditionally Japanese knife design is very task-specific, much more than we're used to in western countries where a Chef's knife is used for 90% of food prep tasks.
In reaction to this Japanese knife designers created the Gyuto, a multi-purpose knife similar to a typical western Chef's knife.
There are still some differences however, a Gyuto has less of a curved cutting edge and a thinner, sharper blade. As a result it remains distinctly Japanese.
Due to this clever design, Gyutos are very popular both in Japan and in the US for those cooks looking for a razor-sharp edge that can perform in a range of tasks.
In this article, I'm going to focus on my favorite Gyutos under $200. It's a good price point to get a Japanese made Gyuto, using quality steel, without breaking the bank.
My personal recommendation for a Gyuto under $200 would be the Yoshihiro 8.25 Inch Damascus Gyuto. The steel has a great balance of strength and durability and the overall design is stunning. It's on the upper end of the scale price-wise, but for the quality you get you could easily pay more.
In a hurry?
You can take a look at the Yoshihiro 8.25 Inch Damascus Gyuto on Amazon here.
Best Gyuto Knives Under $200
Here is my summary table for the best Gyuto knives under $200. I've put them in price order, all these knives use great materials so which one you choose is really down to your budget and design preference.
I've already shown my personal recommendation above but your preference could be different.
I'd also recommend always checking out the current price as they do tend to fluctuate quite a lot, you could easily get a good bargain.
Most of them also come in a range of sizes at different prices. I've focused on the sizes that should suit the widest range of people, typically the 7 inch – 8.5 inch range, but you might also want to see what other sizes are available.
If you want more information on each knife then just take a look at my detailed description below.
Yoshihiro 8.25 Inch Damascus Gyuto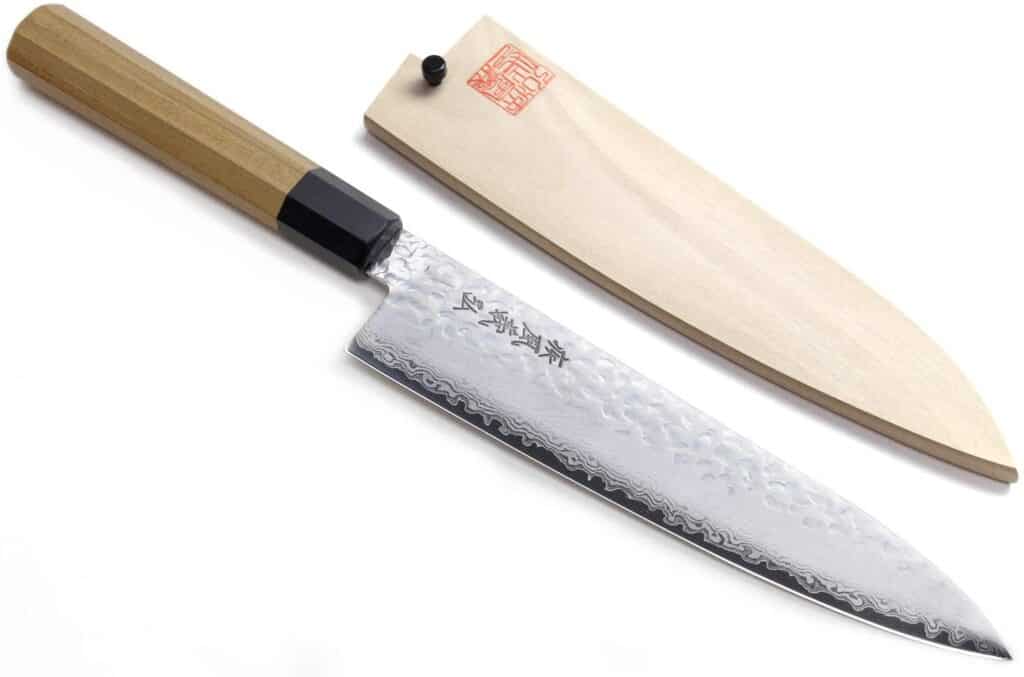 View on Amazon (opens new tab)
Yoshihiro are a superb Japanese knife maker. I like them so much that they actually feature twice on this list, but the knives use very different steel so I think it's acceptable to have them on twice.
Yoshihiro produce their knives in the Japanese city of Seki. This is the heart of Japanese knife making and has a history dating back centuries. As a general rule, if it's made in Seki it's a quality knife, this is certainly true for Yoshihiro.
You can usually expect to pay over $200 for a Yoshihiro due to their quality. This 8.25 inch Gyuto usually hovers around the $200 mark so I felt it was appropriate to add to this list.
The steel used is a Japanese steel called VG-10, it's quite popular in high-end Japanese knife making as it offers a good balance between strength and durability.
The Carbon content is 1%, making this a truly high-carbon knife. That means the steel is stronger than most western knives and can be sharpened to a finer edge. The factory edge is 15 degrees but this steel could probably handle a 12 degree edge if you wanted to further sharpen it yourself.
Whilst the Carbon content is high, durability is not compromised and the Chromium content is a good 15%, qualifying this as a high-performing stainless steel. That means it's very rust-resistant.
The design is beautiful, in my opinion it's the best looking knife on this list. The hammered Damascus steel creates the sought after flowing water pattern on the blade, typical of Japanese design.
The edge of the blade has a slight curve, more than you would get with many other Gyutos and the octagonal handle is made from magnolia timber which is hard, durable and very attractive.
It's a stunning knife and has a great balance of that hard, high carbon steel we have come to expect from Japanese knives, whilst still having the durability that we are used to from western steels.
If you're looking for a quality Gyuto at around the $200 mark then you'll find it hard to pick one better than this.
Yoshihiro 7 Inch Blue High Carbon Steel Gyuto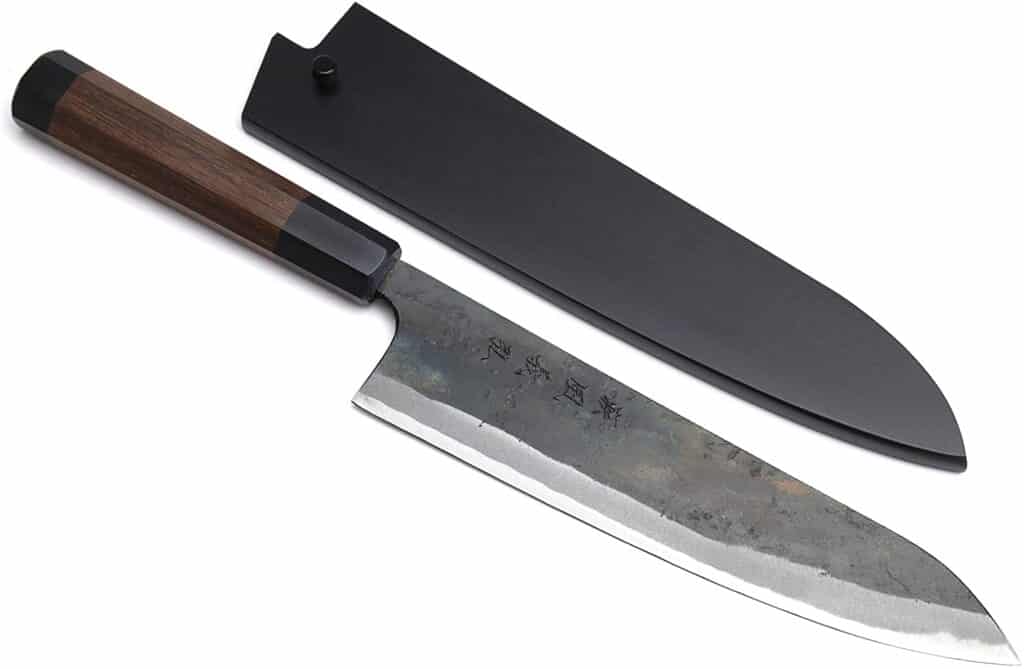 View on Amazon (opens new tab)
This is the second of the two Yoshihiro knives on this list. This one is for the serious knife enthusiasts as it'll take a little more looking after than the other knives on this list.
Just like the previous Yoshihiro knife this one is also made in the Japanese knife city of Seki. And also like the previous one it uses a high-quality Japanese steel, but that steel is quite different.
The steel used is blue high carbon steel. And when they say 'high carbon', they mean it. The carbon content is 1.35%. That's seriously high and means this knife can be sharpened to an extremely fine edge.
Except to achieve an edge of around 8 – 10 degrees on this knife, you could pay double the price and not have a sharper edge, it's about as good as you'll ever get and it's the big benefit of having such a high carbon content.
So, what's the downside? Well, that's the durability. The Chromium content is basically non-existent at 0.5%. That means this is not stainless steel and it will rust if it is left wet.
That's not historically unusual for Japanese steel, which is traditionally high carbon but rusts easily. But more and more Japanese knife makers are focusing more on durability as well as the strength given by Carbon.
What does that mean for this knife? Well, it will give you the sharpest edge you'll ever use, and that edge will last a long time before it needs to be sharpened again, but you will need to look after this knife more than you might with another.
Putting it in the dishwasher is out of the question, it needs to be hand wiped down after every use so it's totally dry before storage, otherwise it will rust.
But if you are happy to take the time to fully take care of this knife then what you will get is a very traditional Japanese knife with an incredible cutting edge.
It's definitely worth the hassle, but only if you're a bit of a knife enthusiast, it's probably not suitable for busy family kitchens.
If this article were titled 'Sharpest Gyuto Knives Under $200' then this one would definitely be my number 1 recommendation.
Masamoto 8.2 Inch VG Gyuto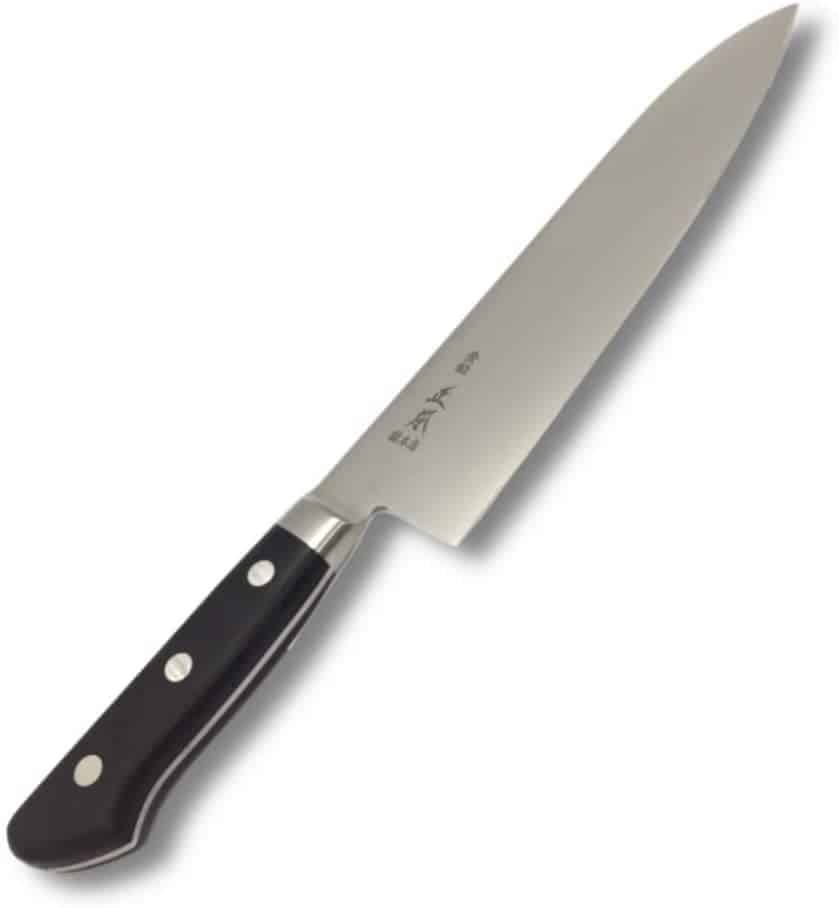 View on Amazon (opens new tab)
Masamoto is a Japanese knife maker with great history and prestige. It was originally founded over 150 years ago by Minosuke Matsuzawa.
Five generations later it's well known as one of the best knife makers in Japan and is the top supplier of Sushi knives in Japan.
This 8.2 Inch Gyuto is from their VG range, but the steel used is not the VG-10 steel mentioned in the Yoshihiro knife review above as you might naturally think. It's the number after VG that tells you the steel type, VG on its own just means 'Gold' (Also called V-Kin, with Kin being Japanese for Gold).
This steel is actually 'Hyper Molybdenum Vanadium Stainless Steel', I guess they didn't think that was a catchy enough name so they just went with VG!
Will that little detail clarified, let's talk about Hyper Molybdenum Vanadium, because it's a very well balanced steel.
It's carbon content is between 0.95 – 1.10% with a Chromium content between 13 – 14.5%. As a result, the steel is hard, allowing for a fine edge. One thing to note about the edge is that it's double-beveled but at different angles, around a 70:30 ratio.
That's important when you come to sharpen it as one side should be sharpened at around a 21 degree angle whilst the other needs a very fine 9 degree angle.
This isn't unusual in Japanese knives as this design can help create a more precise finer cut, since the finer side is almost totally flat.
It is a design commonly found in sushi knives where precision is of great importance. Since Masamoto are the number 1 producer of sushi knives in Japan it's not surprising to see this design on their Gyuto.
The high Chromium content makes this a good stainless steel so you don't need to worry much about the effects of rust.
The blade has a half bolster and full tang into the handle where it is triple riveted. The handle is made from a thermoplastic called POM. It's highly practical as it's durable and very resistant to heat and moisture.
It's a well-designed knife from a top manufacturer. The only thing to watch out for is the different angled edges of the blade, so if you're planning on sharpening this knife yourself it's best to do it by hand using a sharpening stone.
Shun 8 Inch Kanso Gyuto

View on Amazon (opens new tab)
It's pretty unlikely that I'll write about Japanese knives and not mention Shun.
Shun are a well-known Japanese brand and are very popular in the US. One of the main reasons is that they have married the design of western and Japanese knives very well and made ranges of distinctly Japanese knives that are still well suited to western markets.
Shun always use a well-balanced steel, one with enough carbon for a very fine edge but enough durability to suit the expectation of today's consumer.
This Gyuto from their Kanso range is no different and uses AUS-10, a quality Japanese steel.
AUS-10 has a Carbon content between 1 – 1.1% and a Chromium content of 13 – 14.5%. That means this blade could probably be sharpened to an edge of up to 12 degrees if you wanted to, although the factory edge is around 16 degrees. Of course, the sharper the edge to more care needs to be taken to prevent it from getting chipped so the out-of-the-factory edge is rarely as sharp as the steel can handle.
The Chromium content makes this a quality stainless steel so rust shouldn't be an issue.
The blade is full tang into the Tagayasan timber handle. Tagayasan is a hard wood and is very durable, it also gives a beautiful natural appearance to the handle and works brilliantly with the elegant blade design.
This is a very attractive knife using a quality Japanese steel and is produced in the Japanese knife city of Seki.
I think you get a hell of a lot of knife for your money with this one and I'm certain you'll find it tricky to discover a Gyuto of similar quality at this same price range.
Shun knives are always great, and this one doesn't disappoint.
JCK 8.2 Inch Kagayaki Gyuto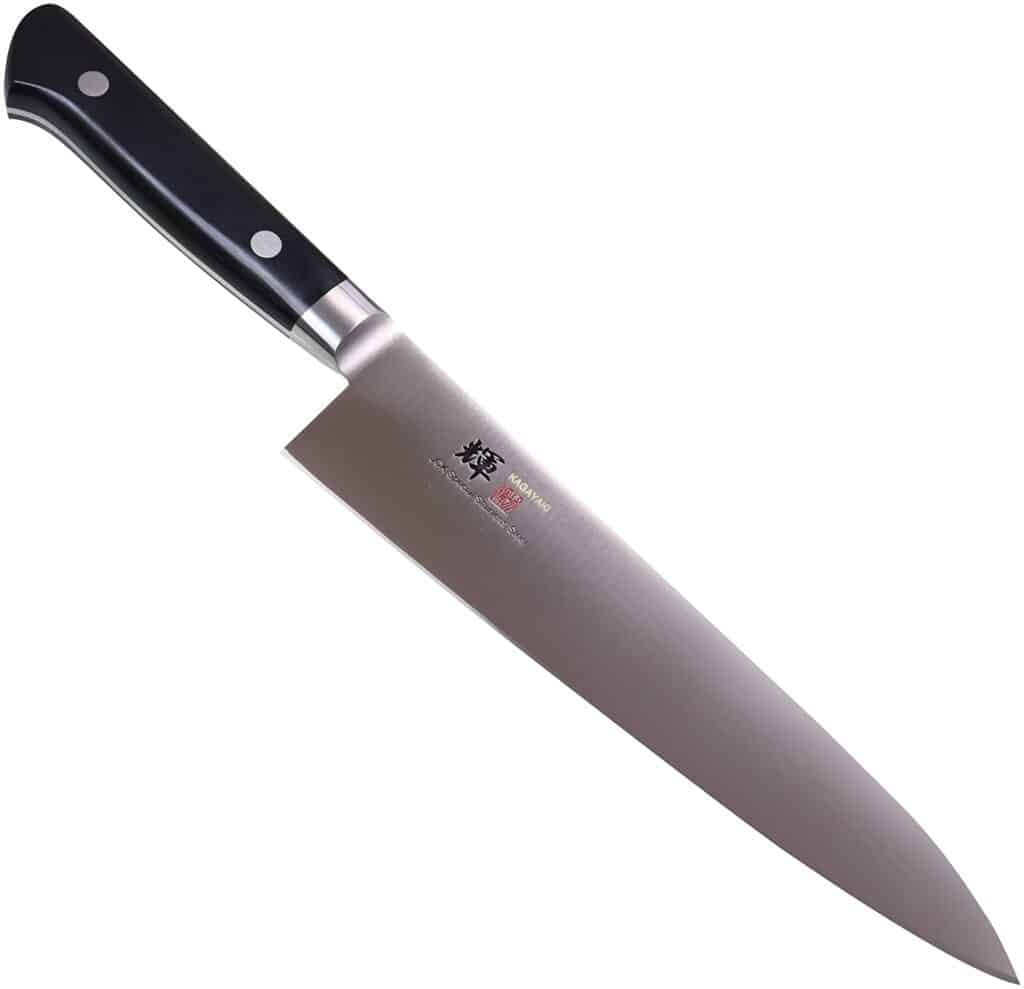 View on Amazon (opens new tab)
Like all the manufacturers on this list, JCK are located in the Japanese knife city of Seki, so you know you're getting the real deal.
This 8.2 Inch Gyuto uses quality materials, but due to the JCK name not being as well known as the other knives on this list, I think this Gyuto is available at a brilliant price.
It uses VG-1 steel. It's a quality Japanese steel with a great balance of strength and durability.
The Carbon content is between 0.95 – 1.05% with a Chromium content between 13 – 15%. That means the blade can handle a very fine edge but is also stainless steel and very resistant to rust.
Like the Masamoto knife listed above, this JCK knife has a double beveled edge with each at a different angle, with a ratio of 70:30.
That means one edge needs to be sharpened at around 21 degrees whilst the other is a very fine 9 degrees.
That makes for extremely precise cutting, but it does mean that if you intend to sharpen this knife yourself, then the best way is to do it by hand using a whetstone. That way you can ensure each side of the knife is sharpened to the correct angle.
The blade is full tang into the handle and double riveted with a half bolster. The handle is Pakkawood, a wood composite resin that is very popular in Japanese knife design.
It's very strong stuff and is durable too, being resistant to flex and heat.
Franky, the price point for this knife is fantastic given the quality you get. This is a high-carbon, stainless steel Japanese knife with a Pakkawood handle for around $100.
If this was produced by one of the bigger brands in the world I think it would cost at least 50% more.