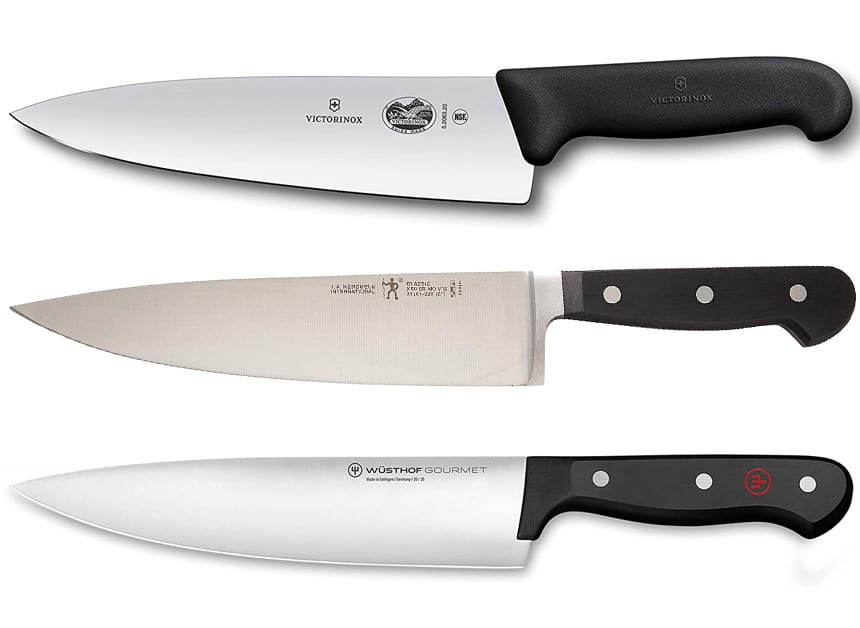 There is no doubt that having the right tools in the kitchen makes cooking a whole lot easier and more fun.
This website is all about recommending the best knife and accessories out there for people who love to cook.
But often the very best tools do come with a bit of a heavy price tag, and I often get asked for recommendations for knives that won't break the bank.
For those people, I've written this article. I'm going to list my recommendations for the best value chef's knives.
This isn't intended to be a list of the cheapest chef's knives, a lot of cheap knives are made from awful steel, badly designed and are just not worth your time.
I've found knives that offer amazing value for their price point, knives that could easily be 30 – 40% more expensive based on their quality but are offered at bargain prices, usually because they are not the manufacturer's 'flagship' offering.
Whatever your budget, I'm pretty sure one of them will suit your needs.
If you're after a good value for money chef's knife in that classic chef's knife shape then I'd have to recommend the Wüsthof 8 Inch Gourmet Chef's Knife. It's a slimmed-down version of their double-the-price classic version but using the same quality materials.
In a hurry?
Take a look at the Wüsthof 8 Inch Gourmet Chef's Knife on Amazon here.
For a more detailed look at this knife or my other six recommendations just take a look below.
The Best Value Chef's Knives
In this list, I focus on good value for money. I wanted to offer a range of knives at different price points that each boast better materials and design than other knives you can find at a similar price.
Whatever your budget, you should find one that suits you. Here's my summary list and there are more details look at each knife further below too.
Global 8 inch Chef's Knife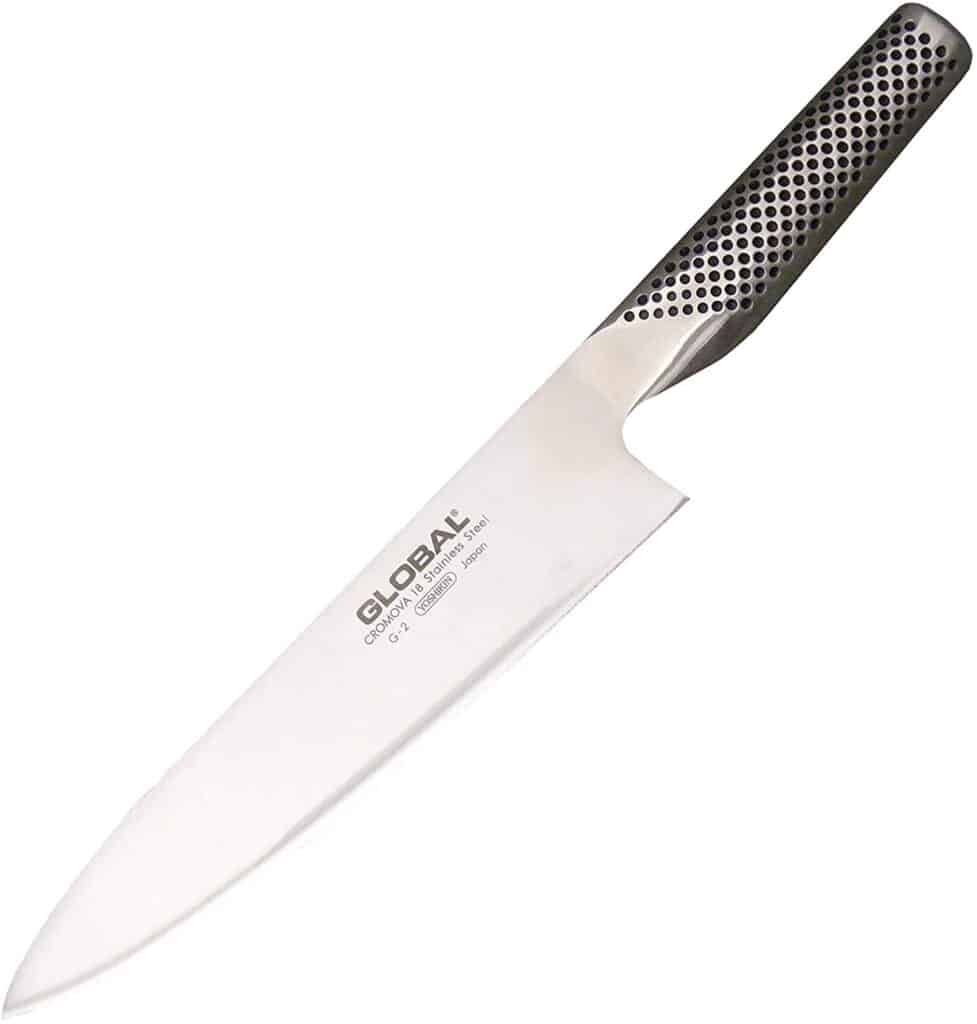 View on Amazon (opens new tab)
This chef's knife by Global will usually come in above $100. There is actually a 6-inch version too which is often available for under $100 and is my number 1 recommendation for cooks with smaller hands but the standard 8 inch is what I'm focusing on in this article as it's applicable to most people.
So I hear you say, how is a $100+ knife good value? Well, the answer is its durability. The reason Global knives are such a good brand, in general, is that they are among the most durable knives you can buy.
That means they will last a very long time, no matter what hardship you might put them through!
Other knives, especially cheap ones (but also some expensive high-carbon knives), will begin to rust very quickly if left wet.
Global however uses some of the highest quality stainless steel found in any kitchen knives to make them ultra-rust resistant.
The result means that this knife will last decades, even if it's not treated particularly well, making it one of the best options for busy family kitchens.
To fully understand why, and for the knife buffs amongst you, let's look at the clever design and materials used to craft this knife.
The steel used for the blade is called Cromova 18. It's only found in Global products and it's the main reason for their durability.
The '18' of Cromova 18 stands for the 18% chromium content. Chromium is the element that makes stainless steel rust-resistant. It effectively creates a protective layer around iron before it can react with oxygen and water to create iron oxide (otherwise known as rust).
Steel can be regarded as stainless steel at 10.5% Chromium content, and hardly any knives have a content as high as 18%, so Global makes some of the best rust-protected blades around.
The other clever bit of design is that the whole knife, handle and blade, is made from one piece of steel.
That removes the common issue of handle wear and tear. Handles made from a different material can warp, chip or snap, especially if being washed in a dishwasher, but there's no chance of that happening with this knife.
The handle is hollow too so the knife remains lightweight, and it's dimpled on the outside to provide extra grip.
This is the most durable knife I've ever reviewed, and for that, it has to be considered good value. If you buy this knife you won't ever need to buy another.
J.A. Henckels 8 Inch Classic Chef's Knife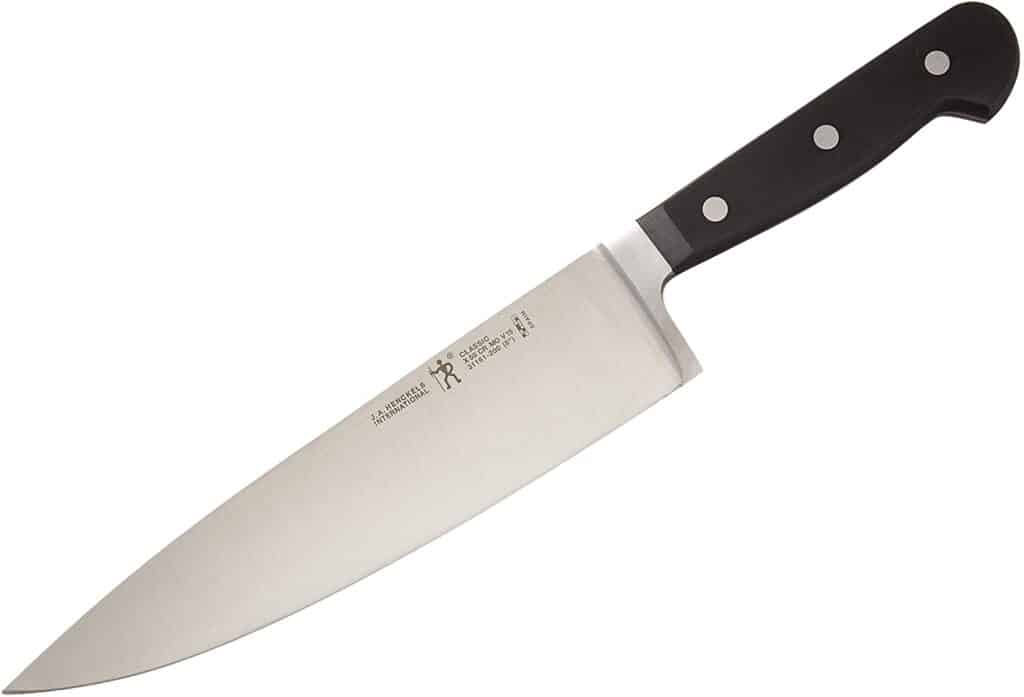 View on Amazon (opens new tab)
Next up is a classic chef's knife from one of the most well-known brands in western chef's knife design.
This J.A. Henckels knife offers a classic design using good quality german materials to create a reliable and comfortable knife.
For what you get the price point is generous. The typical price is just above $100 but in truth, you'll often find this brand with price reductions on Amazon.
As a result, I find that this knife is often $30 – $60 less than its very similar Wüsthof equivalent.
J.A. Henckels is a brand often used by professional chefs, and if like me you pay attention to the knives used on TV cooking shows (who doesn't right?), you'll often see they are using this exact knife.
If you're looking for a classic, reliable chef's knife that uses good quality materials, all at a reasonable price then this is probably the knife for you.
Now let's take a closer look at the materials used.
The steel used is a german steel called X50CrMoV15. It may not be a catchy name but it's a good steel often used in german knife manufacture.
What makes it good? Well, it's well balanced and not too expensive. What you get is a durable blade with good edge retention, for a good price.
The Chromium content is 15% which makes it well above the 10.5% requirement for stainless steel. As a result, this knife is very resistant to rust and ideal for busy kitchens.
The blade is full tang into the triple-riveted handle. The handle itself is made from a thermoplastic making it durable and very resistant to temperature changes.
The overall design is very classic, with a large curve on the blade allowing for easy rock chopping.
It's the most traditional western chef's knife on this list and comes in at a price lower than its equivalent competitors. A great choice for those looking for a classic chef's knife.
Wüsthof 8 Inch Gourmet Chef's Knife

View on Amazon (opens new tab)
You'll not find many lists recommending chef's knives on this list without mentioning Wüsthof.
They are probably the most well-known brand when it comes to western cooking knives, and for good reason.
They are a German company with a very long history, as a result, their knives are classic in design and very well made.
Their standard chef's knife is more expensive than the J.A. Henckels knife I've mentioned above, so I've not included it on this list as honestly, the J.A. Henckels probably does provide a little bit more value for money as it's very similar in quality.
However; this 8-inch chef's knife from their gourmet range comes in under $100 and is frankly a bit of a bargain for a Wüsthof knife.
It uses many of the same materials as their more expensive classic range but has been reduced in a few different ways to bring down the cost, the result is a quality knife from a very reputable manufacturer for a great price.
And for many people, the more slimmed-down design of the Gourmet might even be preferable to the more bulky classic range anyway.
Let's take a look at those materials and design.
The steel used for this knife Wüsthof is X50CrMoV15, that's the same steel they use in their more expensive classic range and it's the same steel used for the J.A. Henckels knife above.
The difference is that the blade for this knife is stamped steel, not forged. Forged is generally preferred, although as stamped steel has improved over time the difference between the two is decreasing.
You can generally identify stamped steel in western knives as the blade goes straight into the handle without a bolster (the large chunk of metal joining to the handle).
That's the main difference for the price cost, but ultimately it's the same steel, so it's going to have similar durability and edge retention, but the knife is $70 – $80 less than the equivalent from the Classic Wüsthof range, that's a big difference!
The handle is made from synthetic polypropylene, a durable thermoplastic that makes a quality, long-lasting handle, just as you would expect from a Wüsthof knife.
Except for the lack of a bolster, the shape of the knife remains pretty classic, with an ergonomically shaped handle and a nice curve on the blade allowing for rock chopping.
This knife costs significantly less than Wüsthof's Classic 8 inch chef's knife but uses all the same materials.
For that, it's got to be considered fantastic value and that's why it's my personal best pick.
Dalstrong 8 Inch Phantom Chef's Knife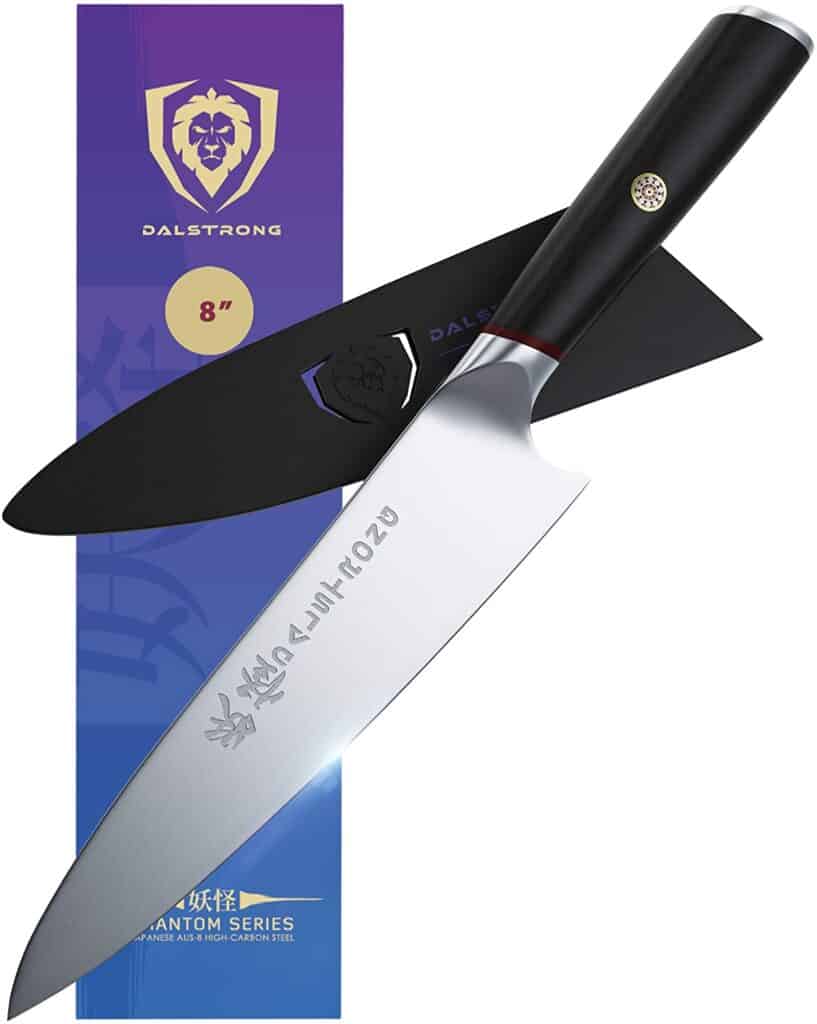 View on Amazon (opens new tab)
This Dalstrong is the wildcard on the list. It's a bit different from a traditional chef's knife and has a lot of Japanese influence, but boy do you get a lot for your money with this one! It just had to be included.
The blade is made using the Japanese steel AUD-8. It's got a good carbon content around 0.70 – 0.75%, if it was much higher than that you'd be getting into the $150+ price bracket.
The chromium level isn't quite as impressive at around 14%, although that's still more than enough to consider this as good quality stainless steel and as a result you shouldn't have any issue with rust.
The high carbon content means that the steel is hard and can thus be sharpened to a finer edge, and it will keep the edge longer. This knife can have an edge of 13 degrees. Most western chef's knives are anywhere between 15 – 20 degrees so you'll certainly notice the sharpness of this Dalstrong.
The blade is full tang into a Pakkawood handle. Pakkawood is a timber composite material that is used extensively in Japanese knives, it's good quality stuff and is very durable.
The blade and handle have a Japanese style to them and there isn't too much curve to the blade. That might be a problem if you like to use a rock chopping technique often used with chef's knives.
This is probably the further departure from a classic western chef's knife on this list but it simply had to be included because the materials used are just so good for the price.
I'd say this is the best steel used in any knife on this list, but it's the fourth most expensive; that has to be good value for money.
Victorinox 8 Inch Fibrox Pro Chef's Knife

View on Amazon (opens new tab)
Victorinox are a company with some serious pedigree in making blades. They are a Swiss company founded in 1884. They are the original makers of the world-famous Swiss Army Knife and they have transferred that knowledge into kitchen knives too.
The blade uses the steel x50CrMoV15. It's a popular steel in western knife making and has already featured a couple of times in the other knives on this list.
It has a great balance of strength and durability with a 15% chromium content making it very resistant to rust.
The handle has been designed for comfort and practicality whilst keeping costs low. It's a thermoplastic elastomer, meaning it's very resistant to wear and tear and temperature changes whilst remaining comfortable to hold with plenty of grip.
The blade itself has a slight curve to the edge allowing for rock chopping and overall the knife is very lightweight.
When talking value for money, Victorinox products have to be included. They are one of the best-known companies in the world of knife making and use quality materials whilst keeping the end cost of many of their products low by stipping out any 'fluff' and sticking to what matters most, materials and basic design… no wonder they are so good at making army knives.
You can often get this knife under $50 so it's a real bargain.
Mad Shark 8 Inch Chef's Knife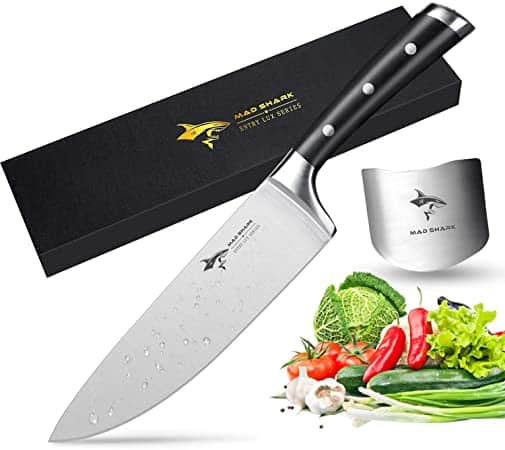 View on Amazon (opens new tab)
Mad Shark makes good knives for a good price. If your budget is under $30 then there is, without doubt, going to be some kind of compromise.
Luckily, Mad Shark does a great job of offering well-designed knives for very low prices, with the quality still remaining higher than many other knives in this price bracket.
The steel used for this knife is 7Cr17MoV. It may be marketed as a German steel, but it's not, it's actually Chinese.
Don't be too shocked, the world of knives is littered with slightly false claims with terms like 'high carbon' being attributed to knives that actually use a steel that's not high carbon at all. In truth, I think many online merchants just don't know much about knives, rather than trying to be sneaky!
Back to 7Cr17MoV, it may be a Chinese steel but its fundamental composition is actually quite good. The carbon content is between 0.6 – 0.75%, that's higher than most german steels, and the chromium content is around 16%, again that stacks up against some of the best stainless steels.
So as compromises good, it's not a bad one, it isn't a fancy German or Japanese steel but it's fundamentally very good and for under $30 it's going to be better than most other options.
The handle is made from a thermoplastic called ABS, which makes it durable and it's also been designed ergonomically.
The blade is a classic shape with a curved edge perfect for rock chopping and overall it's a nicely designed knife.
Mercer 8 Inch Millennia Chef's Knife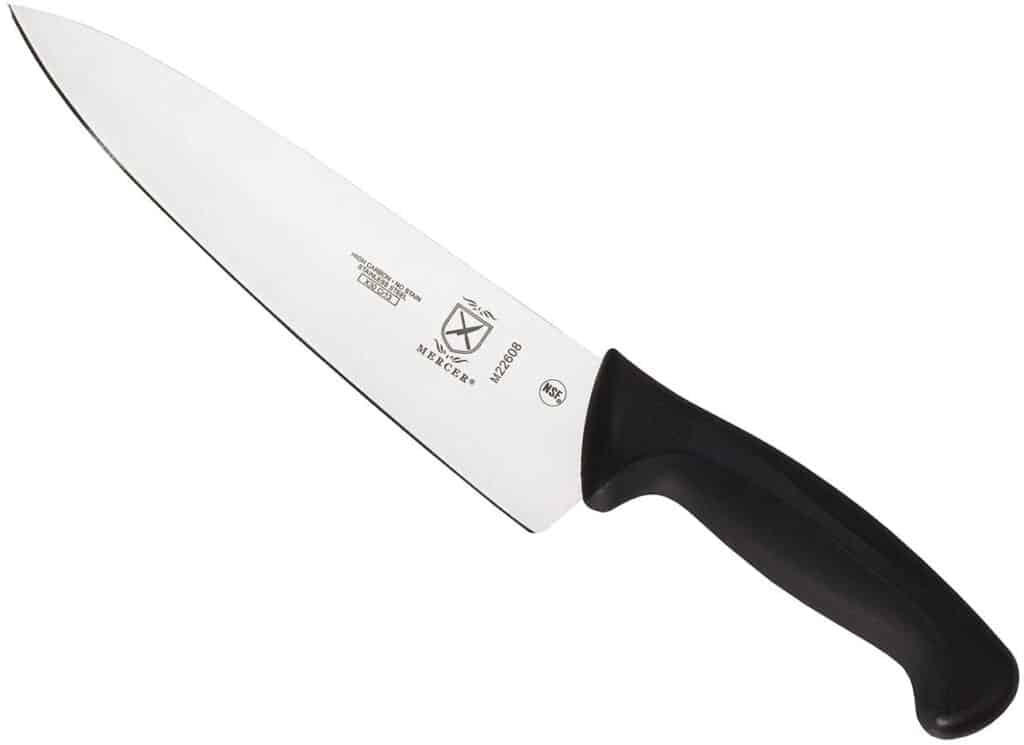 View on Amazon (opens new tab)
Mercer offers a pretty nice range of knives at lots of different price brackets.
This Chef's knife from their Millennia range comes at a very low price, usually under $20. It's not going to blow your socks off, but it is a much better knife than most of its competitors in this price range.
The steel that gets used for knives under $20 is, more often than not, pretty terrible. But the steel Mercer has a pretty good composition and will stack up very well against other $20 knives.
It's a german steel called x30cr13. It has a pretty low carbon content of around 0.35%, so it will need to be sharpened from time to time, but that's normal for a knife at this end of the price scale.
What's better is its decent chromium content which is around 13 – 14%. That makes this pretty good stainless steel. Steel needs to be at least 10.5% chromium to be considered stainless so this x30cr13 steel is significantly above that.
The handle is ergonomically designed from a thermoplastic so is durable, light and comfortable.
I'd like the blade to be a little more curved to allow for easier rock chopping but ultimately for a knife under $20 you can't complain too much.
It's a knife from a good manufacturer that uses reasonable materials, it's not the knife of the century, but for less than $20 it is certainly good value for money.