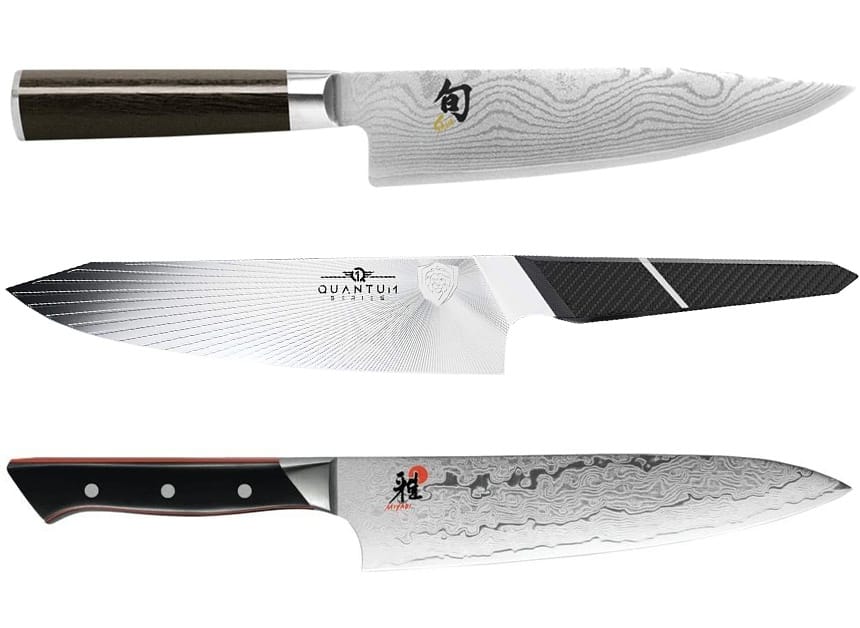 High carbon knives are becoming more and more popular.
It's not like they are anything new, centuries-old techniques are used in the manufacture of high carbon knives and they have a particularly rich history in eastern countries such as Japan.
But now even home cooks are beginning to take notice of high carbon steel, and the benefits it offers in the kitchen.
A higher carbon content makes the steel harder, allowing for a finer cutting edge and ultimately a sharper knife, which stays sharp longer.
In this article, I'm going to show you my recommendations for the best high carbon chef's knives available.
My personal recommendation for a high carbon chef's knife would be the Dalstrong Quantum. It uses fantastic materials for a knife that's not only high carbon, but extremely durable and comfortable to use, and all for a very reasonable price.
In a hurry?
You can take a look at the Dalstrong Quantum on Amazon here.
But for my other recommendations, and a detailed look at each one, then read on below.
What is a high carbon chef's knife
Before the list, I just want to qualify exactly how a knife can be in this list.
Firstly, the knives need to be a standard chef's knife shape, these knives take after the classic western design of a chef's knife rather than any Japanese version (such as Gyuto) so most home cooks will find them easy to use.
That means the knife should be around 8 – 10 inches and the blade edge needs to have that classic curve to allow for a rock chopping action and a sharp tip.
That's different to many Japanese styles which often have very straight cutting edges.
If you're after a high carbon knife with a more Japanese design you should check out my other article Best japanese high carbon knives.
Secondly, all these knives have a carbon content of at least 1% or more. Some companies market their knives as 'high carbon' with as little as 0.5% carbon content, I'm only going to show you knives that are truly high carbon.
I think that to get the full benefit of high carbon knives the carbon content needs to be near the 1% mark at least, that's why I'm setting that as the threshold.
Best Carbon Steel Chef's Knives
Here's my summary table of my recommendations for a high carbon chef's knife. Hopefully, it offers you a good range of different knives at different prices, but all made by quality manufacturers and all with around 1% or high carbon content.
| | | | |
| --- | --- | --- | --- |
| Name | Price | Carbon content | Check current price |
| Shun Classic 8 Inch Chef's Knife | $170 – $190 | 1.20% | Link to Amazon |
| Miyabi Fusion 8 Inch Chef's Knife | $160 – $180 | 1.25 – 1.45% | Link to Amazon |
| Dalstrong Quantum Chef's Knife | $110 – $130 | 1% | Link to Amazon |
| Zelite Infinity Chef Knife 8 Inch | $110 – $130 | 0.95 – 1.10% | Link to Amazon |
| Dalstrong 8 Inch Shogun Chef's Knife | $110 – $130 | 0.95 – 1.10% | Link to Amazon |
For a more indepth look at each knife just scroll down below.
Shun Classic 8 Inch Chef's Knife

View on Amazon (opens new tab)
You can't have a list featuring high carbon knives without having a Shun knife on it.
Shun are a fantastic, Japanese manufacturer of kitchen knives. They are based in the Japanese city of Seki, renowned for its long heritage of knife manufacture, Seki could well be called the knife capital of Japan.
What I love about Shun is that they mix traditional Japanese techniques with western designs. The best example from their range is this 8-inch chef's knife.
It looks distinctly Japanese, but if you actually notice the design, it's been crafted in a very western style, with a curved blade perfect for rock chopping.
The steel used is one of Shun's own creations, VG-MAX. It's a superb steel with a very high 1.2% carbon content.
It has a beautiful 'flowing water' Damascus finish on the blade, typical of Japanese knives. What's doubly impressive about this knife is the very high chromium content of 16%. Chromium is the element that gives steel protection from rusting, it's what makes stainless steel and a 16% chromium content makes these knives comparable to the highest quality stainless steel knives you'll find.
Combine that durability with the rock hard steel and the end product is a Japanese influenced knife that is perfect for the western user.
The blade is full tang into a Pakkawood handle. Pakkawood is a resin composite wood that is very popular in Japanese knives due to its durability and attractive appearance.
Shun are one of the best Japanese companies at merging the best of eastern and western knife design and this high carbon chef's knife is a terrific example of that.
Miyabi Fusion 8 Inch Chef's Knife

View on Amazon (opens new tab)
Miyabi is another Japanese knife manufacturer that makes its knives in the city of Seki.
Like the Shun knife above, this Miyabi knife is distinctly Japanese in its appearance, but if you look beyond that you can see it has all the features of a western chef's knife.
The blade edge is curved, allowing for easy rock chopping and the handle has a half bolster and plenty of heel space for clearance between your knuckles and the cutting board.
This is the highest carbon content knife on my list. The steel used for the blade is SG2 power steel which has a carbon content lying between 1.25% and 1.45%. Even at the lower end of that range it's still the highest carbon content knife on this list, so yeah… pretty impressive.
The chromium content of the Miyabi is all impressive, at between 14 – 16%, again, even at the lower end of that scale it can still be regarded as a high-quality stainless steel, so rusting shouldn't be an issue for this knife.
That super hard steel blade has an absolutely stunning hammered Damascus finish, resulting in the impactful flowing water visual of the blade.
The blade is full tang into a triple-riveted handle made from a thermoplastic called polyacetal. It may not sound sexy but it makes the handle extremely durable which is ideal for an all-rounder knife like a chef's knife.
The handle has also been ergonomically designed in a style much more familiar in western knives, compared with the straightly, cylindrical type design of Japanese tradition.
It is a practical and beautiful knife, and for the quality of the materials used it makes for pretty good value for your money.
Dalstrong Quantum Chef's Knife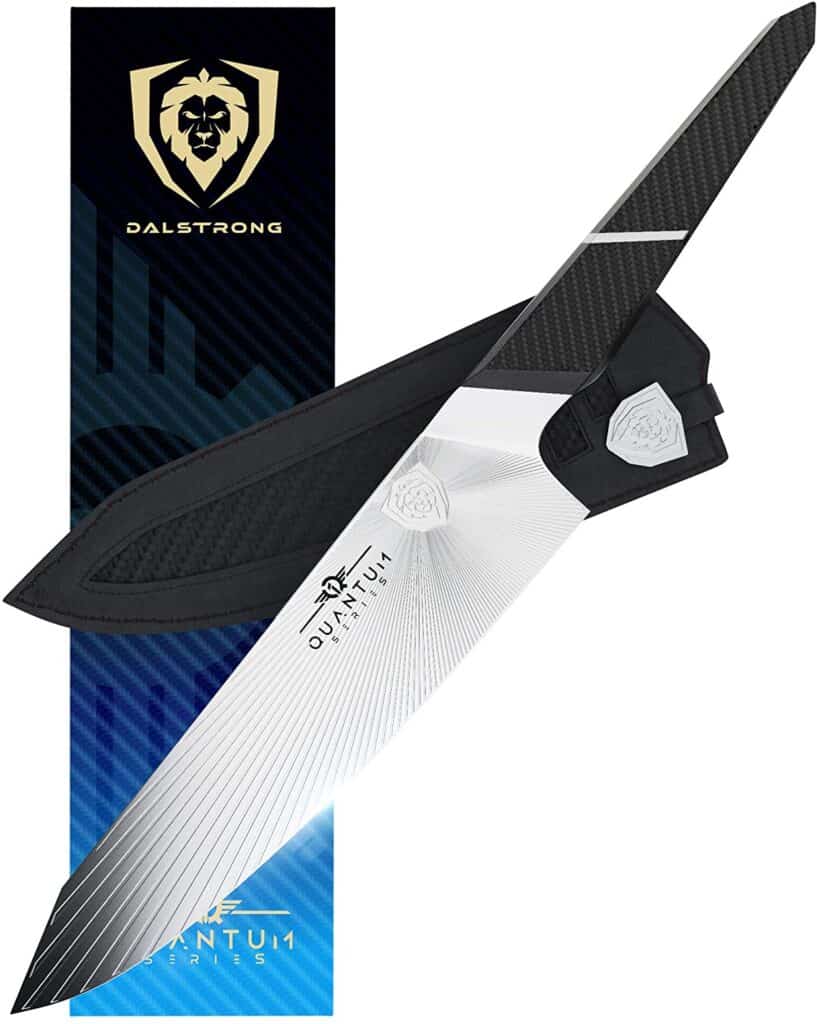 View on Amazon (opens new tab)
These last three knives on my list are not made in Japan, with that comes a distinct reduction in price, but the materials and techniques used are still top quality.
Dalstrong are relatively new to the knife industry, they are an American company that began in 2012, but they are using some truly innovative techniques and unique knife design to really carve out a piece of the market for themselves.
This chef's knife from their Quantum range uses an American made BD1N-VX hyper-steel, and it's a good one. The carbon content is high at 1%, but what's particularly impressive is the durability, the chromium content of this knife is 17%.
That's the highest chromium content of any knife on this list, but honestly, that's the highest chromium content you'll find on almost any list of knives, it's super high and it means this knife is extremely resistant to rust and corrosion.
This knife may look futuristic, but its funky design is entirely practical. The beveled lines on the blade will help food from sticking to the blade whilst slicing.
The blade is full tang into the handle, which is made from carbon fiber and G10 (a fiberglass laminate). As a result, it's super lightweight and very easy to handle and control.
This is why Dalstong is making such a strong impact, being a new company means it doesn't need to bother about traditional and can think outside the box, using new materials and designs to make incredible knives that are very practical.
This is just a superb option if you're looking for a high carbon chef's knife, and it costs less than many high-quality classic western chef's knives, like those made by Wüsthof and J.A. Henckels, which have been omitted from this list because their carbon content is not 1%.
Zelite Infinity Chef's Knife 8 Inch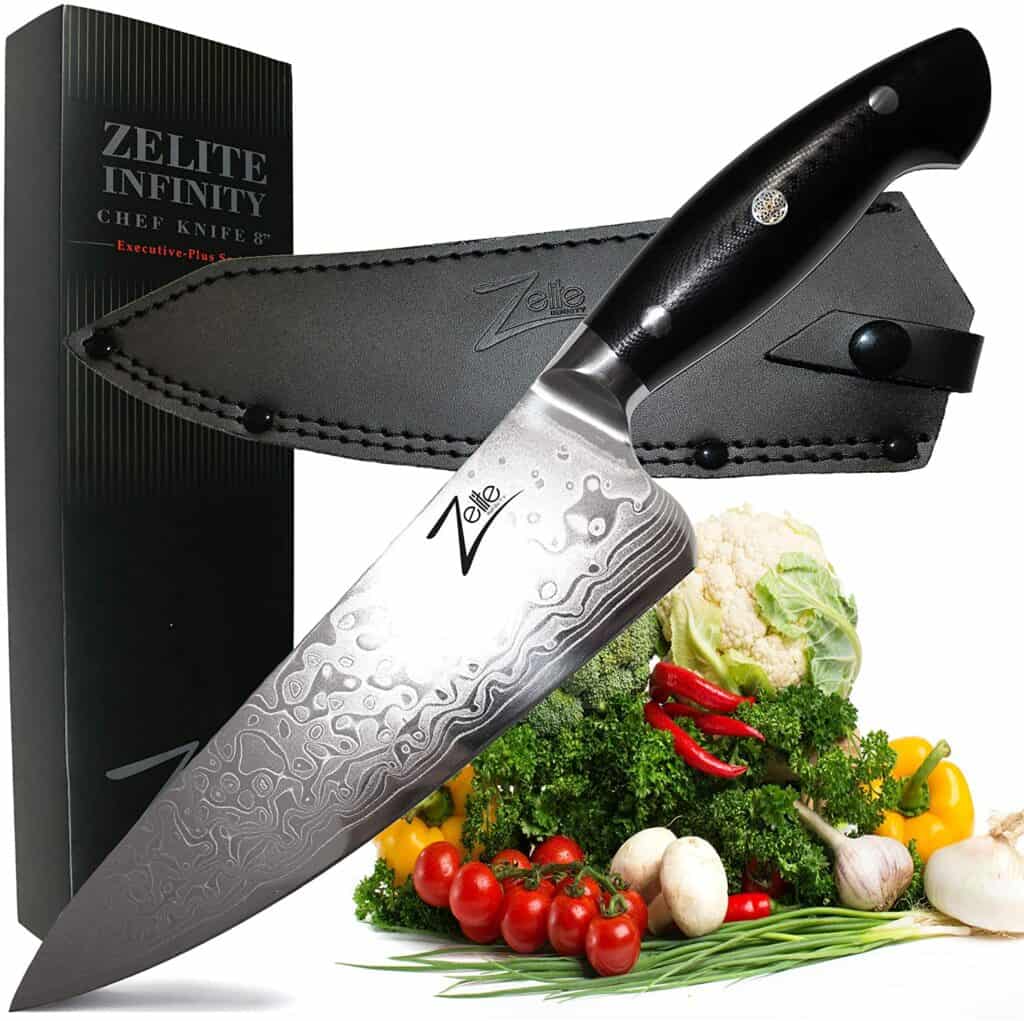 View on Amazon (opens new tab)
Like Dalstrong, Zelite are an American company. Family-owned they too are relatively new to the knife world, but what they offer are unique knives using quality materials.
Zelite, like many American knife manufacturers, keep their cost of manufacture low, whilst still maintaining high quality, by using great materials but outsourcing the assembly to China.
Now I know some knife enthusiasts may be put off by hearing the words 'Made in China', but often those words come labeled on a knife that has also been put together using poor quality materials.
That's not the case with Zelite, the materials used are fantastic, and ultimately the saving is passed onto the customer.
If the same knife, using the same materials, was produced in Japan instead of China, it would cost 70 – 80% more than it does, no question.
Talking of the materials, the steel used is a Japanese steel called AUS-10. It's well renowned as a high-quality steel and has a carbon content of around 1%.
The chromium content is high too, at between 13.0 and 14.5%, which makes this a good quality stainless steel.
The Damascus finish on the blade creates that beautiful and sought after 'flowing water' visual and the blade is full tang into the handle.
The handle uses the same G10 material used in part of the Dalstrong knife, it's a fiberglass laminate and makes for extreme durability and is lightweight.
The handle is ergonomically designed (a specialty of Zelite designs) and is connected to the blade with a half bolster.
This is a great chef's knife with a high carbon content for a very reasonable price, I'd highly recommend it.
Dalstrong 8 Inch Shogun Chef's Knife
View on Amazon (opens new tab)
This is the second Dalstrong knife on the list and this one probably looks like a more typical chef's knife.
The carbon content of the AUS-10V steel is around 1%. Again, this is high-quality Japanese steel with a good level of chromium to make the blade very resistant to rust and corrosion.
The blade has a beautiful Damascus finish and the curve of the cutting edge is more pronounced than the Quantum Dalstrong, allowing for an even easier rock chopping motion that is commonly used with western shaped chef's knives.
The blade is full tang into the handle and has a half bolster. The handle is also made from the same G-10 fiberglass laminate material as used in both the Zelite and for part of the Dalstrong Quantum handle.
That makes it super durable and resistant to any temperature it's likely to experience.
The handle itself is ergonomically designed and the overall shape of this knife is probably the most classic in terms of western chef's knives from the selection on this list.
It's a great, high carbon choice for a chef's knife, using quality Japanese steel, and comes with a useful blade sheath to protect the blade when not in use.