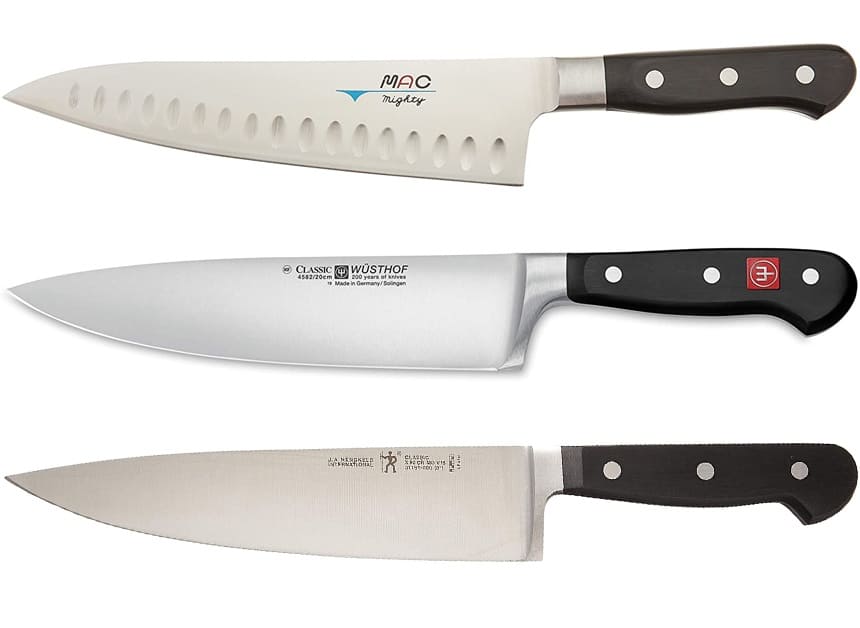 With thousands of brands in the market, finding the best professional chefs knives isn't an easy task. You have to go through hundreds of brands just to compare the design, quality, and price tag.
Not all culinary brands produce quality blades but there are brands that have mastered this craftsmanship to produce quality, durable, efficient, and cost-effective knives.
In this article I'm going to explore my favorite professional chef's knives.
I'm going to be looking at this through the lens of what works in a professional kitchen, but the truth is that all these knives are also fantastic choices for home cooks who love cooking and want to use the best available tools.
My strongest recommendation for the best professional chef's knife would be the Wüsthof Classic 8-Inch Chef's Knife. When it comes to classic western knives Wüsthof really are the kings and they have been making high quality, traditional chef's knives for decades. As a result, they are one of the most popular brands among professional chefs.
In a hurry?
You can take a look at the Wüsthof Classic 8-Inch Chef's Knife on Amazon here.
If the Wüsthof knife doesn't quite hit the mark for you then I have 6 other fantastic recommendations below.
Whether you're looking for something traditional or a bit more unique, I'm sure you'll be able to find your perfect cooking partner from one of them.
7 Best Professional Chef's Knives
Here's the full list of my 7 recommendations.
For a review of each knife just scroll down the article.
Mac Mighty 8-Inch Professional Hollow Edge Chef's Knife

View on Amazon (opens new tab)
Pros
An incredibly sharp blade
Quality steel means the edge will old it's sharpness for longer
The dimpled edge stops food from sticking to the blade
Key Features
2.5 mm steel blade with added dimples for precise cutting and easy gliding
Lightweight and weighs only 10 ounces
Effectively cuts through sticky foods such as squash and potatoes
Comfortable and fitting pakkawood handle for lasting use
Mac is one of the world's top culinary companies with some of the very sharpest knives. This Japanese company uses traditional craftsmanship with the latest cutting-edge technology to produce well-polished, razor-sharp knives with comfortable handles.
The Mac Mighty 8-inch takes the lead as one of the best professional chef's knives for commercial use. Its thin blade in addition to a light bolster allows you to effectively cut or slice any type of edible. Its 2.5 mm steel blade with added dimples can quickly glide through sticky foods such as summer squash, potatoes, and apples.
This is a lightweight knife that's made with a hollow blade edge. That makes it easy to handle and the dimpled edge stops food from sticking to the blade. Its effectiveness is enhanced by its Pakkawood handle that comfortably fits in your hand, allowing you to efficiently cut food with ease
Wüsthof Classic 8-Inch Chef's Knife

View on Amazon (opens new tab)
Pros
A classic workhorse that is essential in preparing any meal
Highly versatile and reliable
Made with durable materials for lasting use
Stain- and corrosion-resistant
Key Features
8-inch long kitchen knife with a long-steel blade for ease of use
The precision-forged stainless steel blade is made with a 58-degree HRC and its 20% sharper than previous models
Ergonomic polymer handle for a comfortable and firm fit
A versatile and multipurpose kitchen knife that's ideal for slicing, chopping, dicing, and mincing.
Wüsthof is an award-winning culinary company that's renowned for its high-quality knives that are made to last.
Commonly regarded as the maker of the best professional western-style chef's knives, Wüsthof knives are traditionally designed but use the latest tech-processes.
Wüsthof has over 200 years of history of making classic knives. As a result, their designs are as near to perfect as you can get for a professional chef's knife.
The Wüsthof classic 8-inch knife is a powerhouse in the kitchen. It's the perfect all-purpose knife that can be used for dicing, chopping, slicing, and mincing.
Its lightweight nature in addition to a sharp blade makes it ideal for heavy-duty work. From cutting huge chunks of meat to slicing vegetables, this precision-forged cutter with stainless steel blade can handle anything.
Wüsthof uses precise edge technology to ensure that the knife has a 20% sharper blade with edge retention that's almost twice better. Its triple-riveted polymer handle provides a comfortable and hygienic fit, making it ideal for long-lasting use.
This 8-inch knife has been designed for comfort, better control, and safety. It comes with a full bolster alongside a finger guard to ensure that you chop through any food without harming yourself.
Global 8-Inch Chef's Knife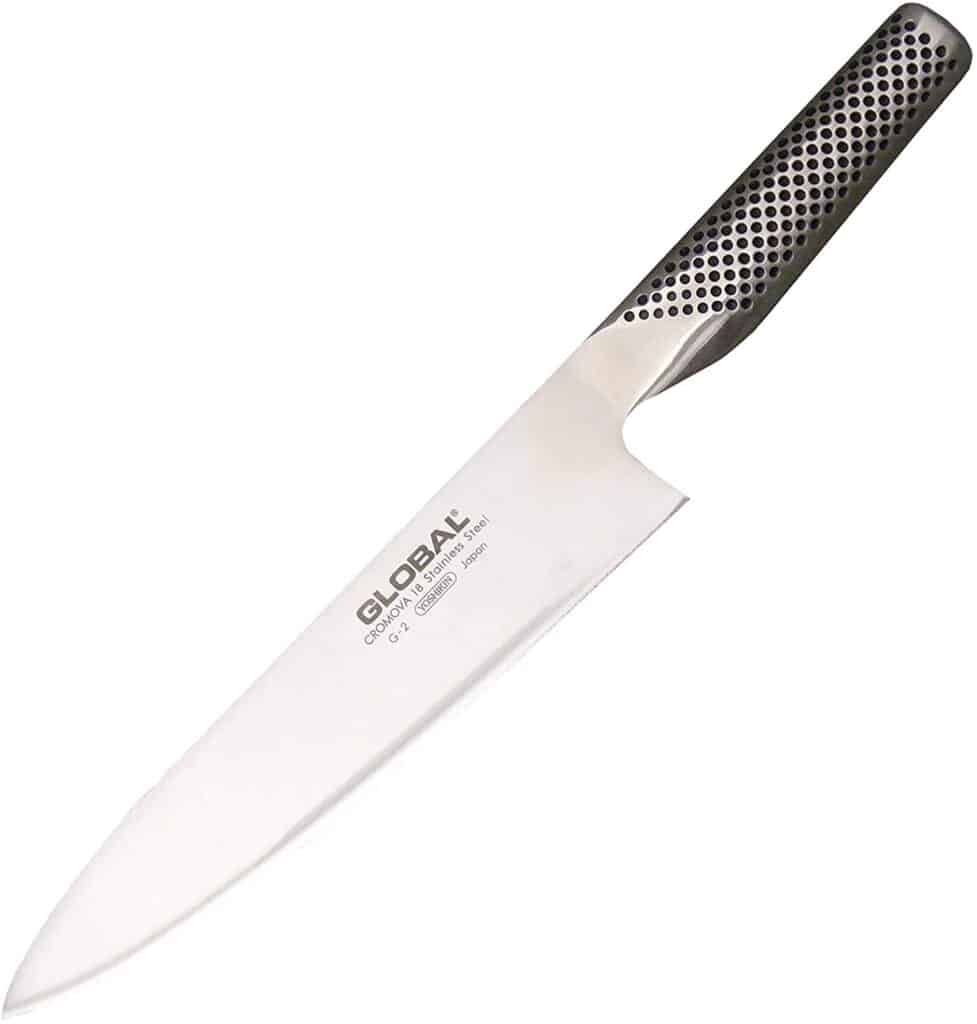 View on Amazon (opens new tab)
Pros
One of the most rust-resistant knives in the world
The dimpled handle provides increased grip
Make from one piece of solid steel so it's very durable
Key Features
A lightweight chef's knife that weighs 7.8 ounces with a well-balanced 7-inch length
Its Cromova-18 blade is made using a combination of high-tech vanadium and molybdenum stainless steel
Has a razor-sharp blade that's steeped at an acute angle
Global culinary company is best known for its unique design, encompassing the blade and handle all in one single piece of high-quality stainless steel.
Global provides knives with some of the best quality stainless steel you'll find, with an 18% chromium content. That's the stuff that makes knives rust-resistant, and even great stainless steel only has a 15% Chromium content.
As a result, Global knives are incredibly resistant to rust, which can be a huge benefit in a busy kitchen.
With more than four decades in the culinary industry, this is one of the game-changers thanks to quality products that have competitive prices.
Its ability to cut a niche for itself among professional chefs is facilitated by collaborating with some of the most renowned chefs in order to create knives that are versatile and reliable. The brand has sets of knives designed for nearly every kitchen task. Global is a brand that takes its craft seriously, perfectly designing knives that suit the specific needs of chefs.
Its 8-inch knife is a game-changer with distinct features in addition to amazing functionality. For starters, the blade has a razor-sharp edge. It quickly and precisely goes through a wide range of edibles with minimal pressure. For a professional in a commercial kitchen, this enhances efficiency and reduces the chances of fatigue.
The signature knife has a stainless steel blade that's grounded on both sides. It's just like any western-style knife but its efficiency is top-notch. It's worth noting that there is a unique acute angle tilt on its edge that makes it dramatically sharper. As a result, the knife gives any user better control and guarantees them enhanced safety.
To retain its sharpness for lasting use and enhance its durability, the Global 8-inch knife features Cromova-18 stainless steel. This material features a mixture of chromium, vanadium, and molybdenum. The unique blend creates a resistant-free blade that doesn't stain.
J.A. Henckels Classic 8-Inch Chef's Knife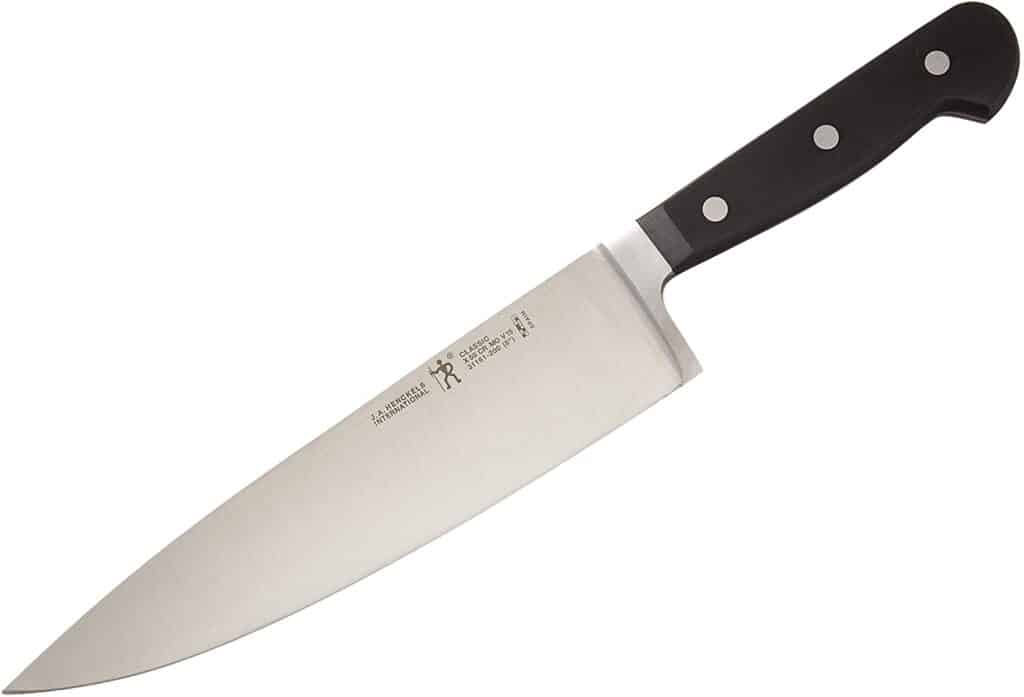 View on Amazon (opens new tab)
Pros
A highly durable kitchen knife that's ideal for lasting use
It's sharp and goes through food with a high level of precision
Super versatile and ideal for multipurpose use
Key Features
High-quality German stainless-steel blade for durable and lasting use
Its fully forged construction seamlessly transitions from the blade to the handle, providing safety and enhancing user control
It's made with a professional satin-finished blade that's finely honed to offer a high level of precise sharpness
Durable, ergonomic plastic handle for comfortable and firm handling
A highly versatile multi-purpose knife for dicing, chopping, slicing, and mincing
J.A Henckels isn't your usual culinary company. It's more than a century old, so it's had plenty of time to perfect its designs.
The international company is one of the oldest brands in the world and its mission is to offer chefs sophisticated knives using traditional designs that are tailored to meet the needs of busy kitchens.
J.A. Henckels Classic 8-Inch Chef's Knife is regarded as one of the best chef's knives for multipurpose use. This 8-inch kitchen knife ensures that any chef can use it continuously and without strain on the hand.
Its fine-edge blade made with stainless steel material is highly durable and reliable. As a result, you can be confident that this knife was built to last. It's honed to provide users with long-lasting sharpness, making it an ideal kitchen companion for any chef.
Whether you are preparing steaks for grilling, chopping vegetables for cooking, or mincing onions, there is no doubt that any chef will first reach for this knife. Its design is based on durability and reliability, ensuring that you get value for your money.
Overall, this Henckels chef's knife is the standard definition of the classic chef's knife, a chef's best kitchen companion.
Dalstrong Gladiator Series 8-Inch Chef's Knife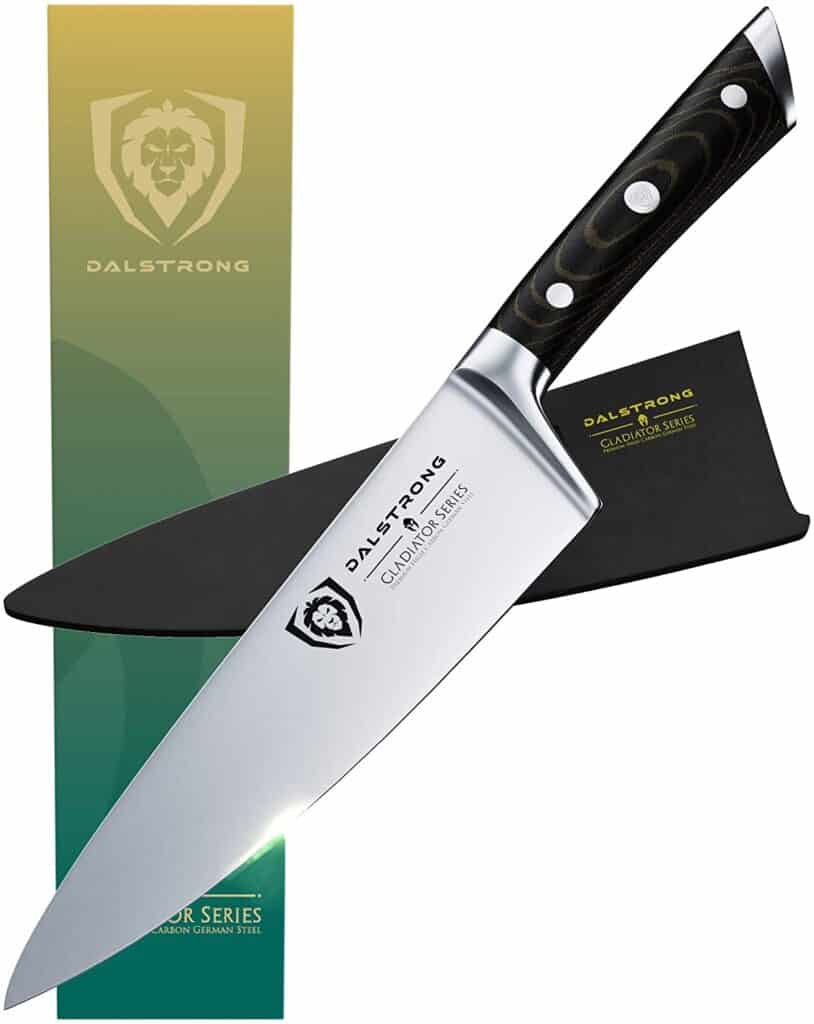 View on Amazon (opens new tab)
Pros
It has been engineered to perfection with its outstanding craftsmanship
Highly durable with a high level of efficiency
Provides better control and superior comfort
Key Features
High-carbon German stainless-steel blade that's rust-resistant
Military-grade G-10 handle for better agility, enhanced comfort, and superior control
A stunning overall design with premium materials for peak performance and lasting use
A razor-sharp blade that tilts 14-16 degrees on every side. It's also tempered to enhance its effectiveness
Comes with a hand-polished design in addition to a satin finish and Rockwell hardness for better efficiency and a high level of durability
A highly flexible kitchen knife with better knuckle clearance and minimal slicing/cutting resistance
Dalstrong's mission is to inspire all commercial cooks with its modern knives. They are a great choice for chefs who want to move away from the more traditional western designs of Wüsthof and Henckels.
The brand uses quality materials to ensure that you have a knife that's efficient and reliable.
From its relatively recent beginnings in 2012, Dalstrong has grown significantly over the past few years to become one of the most sought-after brands. The versatile knives as well as other kitchen tools are made with high-tech processes for a customized and stylish design.
Each knife undergoes comprehensive testing to ensure that it will be able to withstand the demands of a busy kitchen.
This 8-inch knife from Dalstrong is made with outstanding craftsmanship. Dalstrong uses cutting-edge technology featuring premium materials and a stylish design. It's a stunning blade that makes a great addition to any kitchen setup.
This professional kitchen knife is incredibly sharp with its razor-sharp design. It's made with a high-carbon steel blade that it's perfectly polished at the edge with a 14-16 degree angle tilt on either side. In addition to that, the blade has been precisely tempered for a well-defined cut.
This is an award-winning kitchen knife that is satisfying to hold thanks to its full-tang, garolite handle. This gives it an incredible level of robustness and control.
Dalstrong knives don't just look pretty, they are also stain-resistant and highly impervious to moisture, cold, and heat.
Zelite Infinity 8-Inch Chef's Knife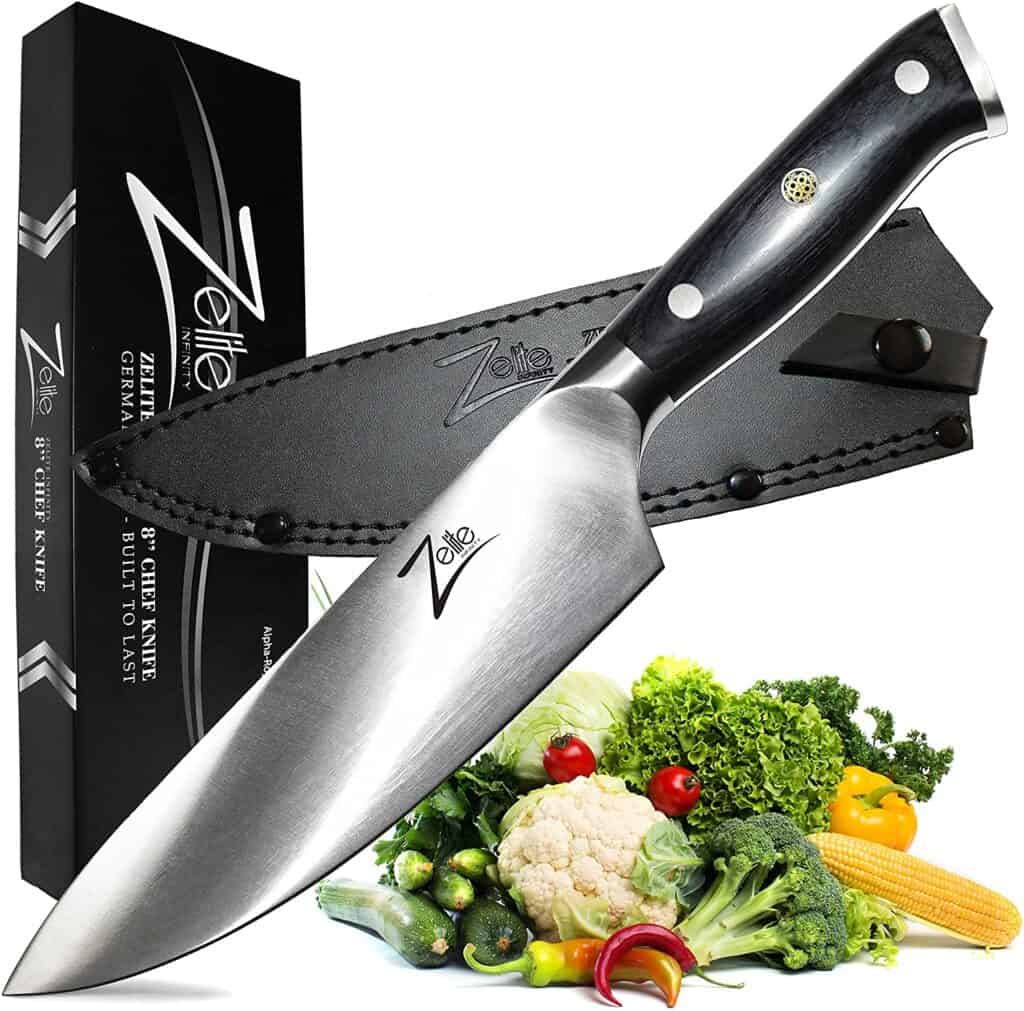 View on Amazon (opens new tab)
Pros
Highly durable with top-notch performance
Ergonomic hand triple-riveted handle for ease of control and high level of efficiency
A low maintenance cutter with great edge retention
Key Features
Premium stainless-steel blade that's tough and rust-resistance
56+ Rockwell Hardness in addition to an 8-inch Gyuto-style blade for a great slicing power.
Lightweight design with minimal edge resistance to reduce hand and wrist fatigue
A Pakkawood handle for comfortable handling and precise control. There is also a black leather sheath for superior protection of the blade
Zelite Infinity's chief goal is to always make the best professional chefs knives whilst keeping comfort at the forefront of the design process.
Zelite has invested a lot of resources to ensure that its knives are made with outstanding performance and great balance in the user's hand, and it's paid off. The family-owned business uses innovative premium materials to make the blades, handles, and sheaths.
Made with a high-carbon German stainless-steel blade, Zelite Infinity is an alpha royal knife made with a sleek design featuring a high-performance edge that quickly slices through food.
The 8-inch professional knife offers the best of both worlds. This includes a high performance coupled with affordability. It's a beautiful knife that's cost-effective and offers value for money.
The Zelite Infinity 8-Inch Chef's Knife is tough, making it ideal for multitasking. It effectively cuts through meat, vegetables, herbs, and fruits without resistance. Its stain-resistant blade in addition to the pakkaWood handle makes it very durable.
But the crowning glory of this knife is its comfort, it stands out from the other knives on this list because it moves away from the traditional to focus on producing an ergonomic knife that chefs can use for hours without hand strain.
Mercer Culinary Renaissance 10-Inch Chef's Knife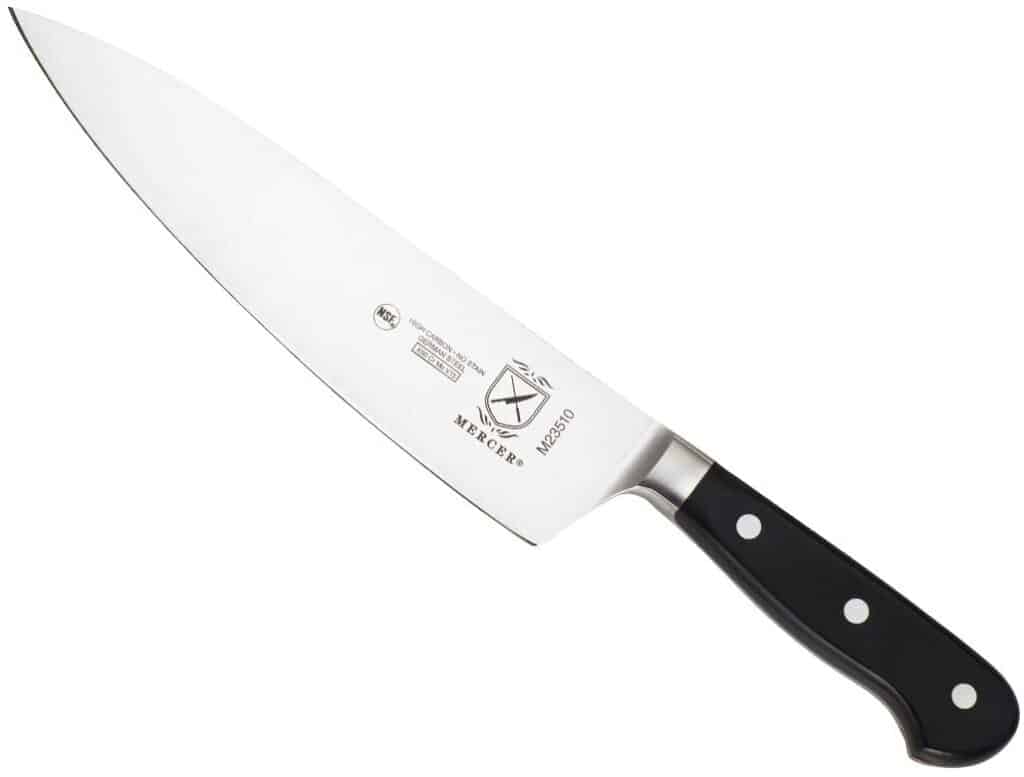 View on Amazon (opens new tab)
Pros
A fine blade that's sharp and well-polished
Its rounded blade spine offers a comfortable grip
Easy to sharpen and maintain
Key Features
Stain-resistant, high-carbon blade for efficiency and precise cutting
Ergonomic, triple-riveted Delrin handle for better control
A shortened bolster that fully exposes the blade and enhancing the ease of use
A taper-ground edge for easy honing, improved stability, and lasting sharpness
Mercer is a company that has years of experience in the culinary industry. Mercer's success is based on innovative technology that aims to provide innovative solutions to commercial kitchens. It's a company that is based on tradition but still continues to evolve in order to meet the dynamic demands of modern-day kitchens.
The renaissance collection featuring the 10-inch chef's knife is a rebirth of a classic culinary tool. It's a combination of an extraordinary kitchen tool that's fit and adheres to form. The 10-inch chef's knife is NSF certified hence it perfectly meets the stipulated quality standards with regards to safety and performance.
Its blade is made with precision-forged German steel that's durable and resistant to rust and discoloration. Besides that, the premium cutting tool is made with an ergonomic Delrin handle that provides superior comfort and better control.
Mercer Culinary Renaissance 10-Inch Chef's Knife has been designed to enhance efficiency in the kitchen. Its bolster is quite short and this ensures that the edge of the blade is fully exposed. So, whether you are sharpening or using the knife, you get to utilize all parts of the blade.