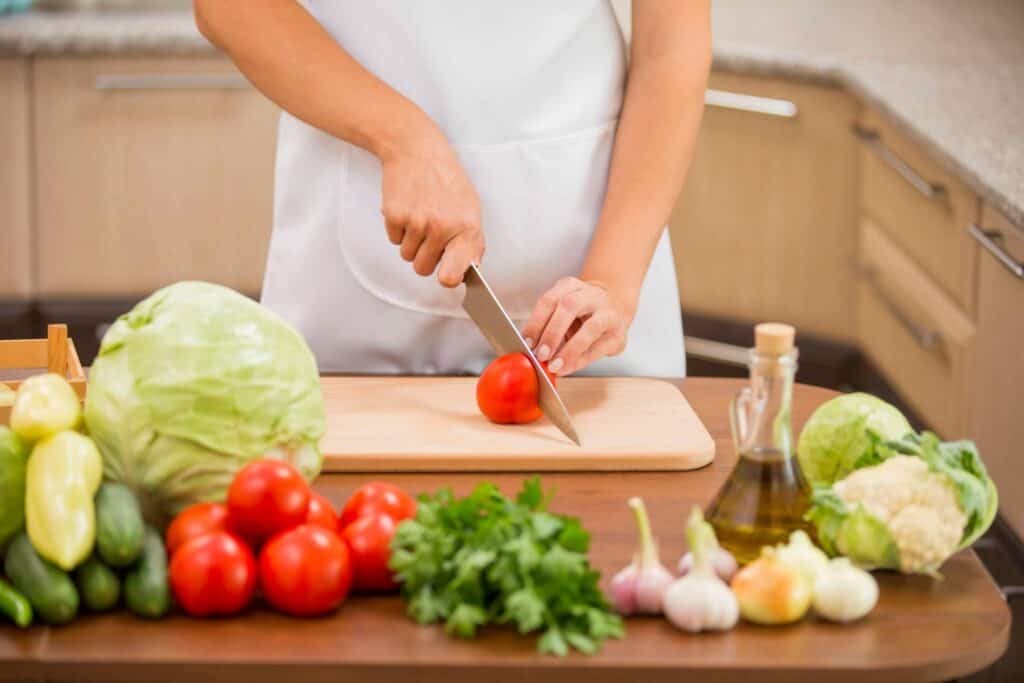 Cutting boards can be made from a huge range of different materials, probably more than you've ever realized.
If it's relatively hard and can be cut into a flat shape then it's probably been used as a cutting board material.
In today's eco-conscious world we are always looking for better and more sustainable alternatives to help the planet, and for this, bamboo provides a pretty good solution.
Bamboo is an extremely sustainable product and today so many products are being created from it. And because it grows so quickly bamboo products also tend to be pretty cost-effective.
Bamboo is a great material for a cutting board. It's very, very strong and since it's so dense, bamboo is also much more resistant to staining than other timber varieties. On the negative side the lack of 'give' in the cutting surface can lead to you knife becoming blunt more quickly than on softer wood cutting boards.
So there you go, bamboo is strong and inexpensive so it's a great material for a general use cutting board.
What Is Bamboo?
Bamboo is actually more related to grass than wood, but you would not think so as it is 19% denser than wood. It is extremely fast-growing and needs very little care and attention and when cultivating or harvesting it there are no harsh chemicals involved.
Is Bamboo Porous?
Well, all-natural materials are porous to some extent, but because bamboo is so dense its porous nature is greatly reduced and it is not as porous as wooden chopping boards.
Are Bamboo Cutting Boards Safe To Use?
Yes, bamboo is perfect to use as a cutting board. You need to follow the instructions to keep it clean as with any other kitchen surface, but you can be sure your bamboo cutting board is not only functional but chic as well.
As it absorbs less liquid than traditional wooden cutting boards it has more resistance to bacteria.
Bamboo Cutting Board Care
There are a number of ways to care for your bamboo cutting board to ensure it has a long life.
Bamboo cutting boards will need regular oiling with mineral oil to ensure it remains hydrated and waterproof.
This also gives a barrier and some protection against bacteria. You can also use lemon juice or baking soda to remove any stains. Never scrub your board, you should use gentle circular motions with a clean cloth.
Can You Wash Bamboo Cutting Boards?
You should wash your bamboo cutting board in hot soapy water after every use, then rinse it and dry it completely.
Do not allow it to soak in water. It should not be put in a dishwasher, even if the manufacturer's instructions say so, otherwise, you may find it cracks or warps and will not last very long. Allow it to complete its drying by standing it vertically to allow the air to get to all sides.
Bamboo Cutting Board Pros And Cons
Should you get a bamboo cutting board? You decide:
Pros:
Renewable, natural, sustainable source

Less maintenance than wooden chopping boards

Do not stain very easily due to their less porous nature

Competitively priced

Comes in a range of sizes to suit any kitchen

Easy to store when not in use

Strong and durable

Stylish

Resistant to bacteria
Cons:
Cannot be placed in dishwasher

Can be harder on knives due to harness of material, so invest in a good set of chef knives

Cannot be scrubbed
Summary
Bamboo cutting boards are not only made from a renewable and sustainable source but it's also a pretty inexpensive material, making bamboo cutting board excellent value.
They look very stylish in any kitchen, but that does not detract from their strength and functionality.
They are hard-wearing and durable and easy to replace when worn out.
If you're shopping for a cutting board on a budget, then it's hard to beat a simple bamboo cutting board.