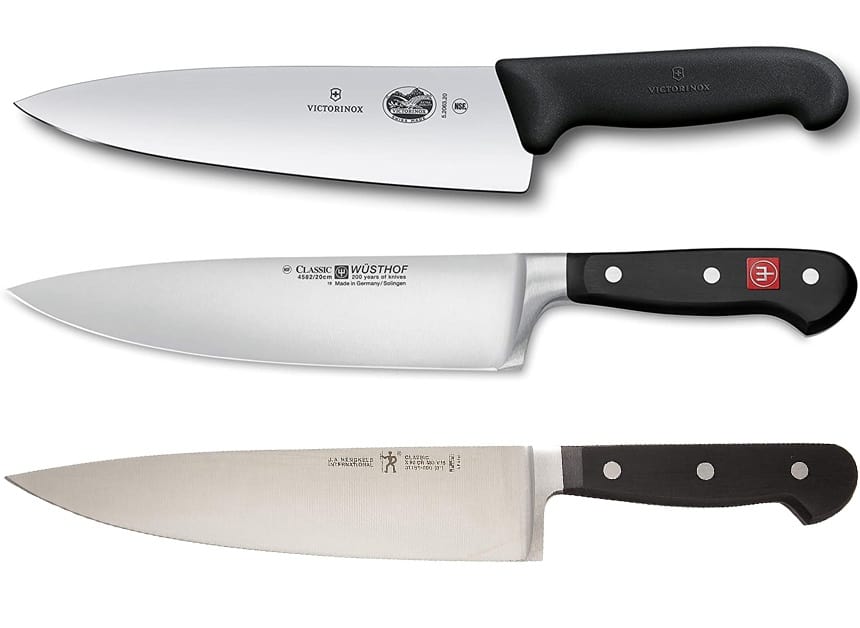 Whether you have ambitions of a professional career in the kitchen, or you're just a budding home cook, having the right tools can make a huge difference.
People often visit this site to get advice on the correct knife for them and their situation.
Home cooks or chefs just at the beginning of their journey might not have the budget to outlay on the top end professional knives.
That's who this article is for. I'm going to list a range of chef's knives at different price points, each one represents great value for its price range, and no matter where you are on your culinary journey, you should be able to find a knife from this list that meets your needs and budget.
My personal recommendation of the best chef's knife for beginners would be the J.A. Henckels 8 Inch Classic Chef's Knife. Whether you're a budding professional or an eager home cook, this J.A. Henckels knives offer fantastic durability whilst being significantly lower in cost compared to other similar quality knives.
In a hurry?
You can take a look at the J.A. Henckels 8 Inch Classic Chef's Knife on Amazon here.
For a detailed look at a range of suitable knives at different price ranges then check out my summary table and full reviews below.
The best chef's knife for beginners
Here is my summary table of the best chef's knives for beginners. I've placed them in price order rather than a ranking as each represents great quality for its price.
You'll find knives from around $170 right down to $20 on here.
If you're starting out as a professional chef then I'd have to recommend choosing one of the first two on the list, either the Classic Wüsthof or Classic J.A. Henckels, you'll need that hard-wearing quality in a professional kitchen.
If you're an eager home cook then you should choose the one that fits your own budget.
To learn more about each knife then check out my detailed descriptions below.
I've also listed some key things to look for when buying a knife at the bottom of the article.
Wüsthof Classic 8-Inch Chef's Knife

View on Amazon (opens new tab)
Wüsthof are a knife making giant. They are one of the best-known producers of quality knives in the world and are used by many professional chefs.
They are a German company with a history dating back over 200 years. They specialize in making knives with a classic western design. They are always high quality with a strong focus on durability.
This Wüsthof is probably the most durable knife on this list, and that's what makes it so popular amongst professional chefs.
I've had to include this knife in this article as, although it's at the higher end of the price scale, it is a knife that many young professional chefs choose. It will last for decades, and ultimately that makes it very good value.
The steel used for this knife is X50CrMoV15. It's a german steel that is quite often used in quality knives.
The reason for its popularity is its balance between strength and durability. The carbon content is 0.55%, that's not particularly high, but it's just good enough to achieve a blade angle of 15 degrees, which is plenty sharp enough.
The 15 in X50CrMoV15 represents the 15% Chromium content. Chromium is the element that prevents knives from rusting, it's what makes stainless steel. A Chromium content of 15% makes this a high-quality stainless steel so the risk of having rust issues with these knives are very low as long as it's reasonably well maintained.
The design is very classic of western chef's knife design. The blade is beautifully curved along the edge allowing for rock chopping. The blade is full-tang into the handle with a full bolster.
The handle is triple-riveted and made from a quality thermoplastic material called POM. That means it too is very durable and resistant to all the temperature and moisture variations you get in a professional, and home kitchen.
In my opinion, this is the best knife on this list and would be my personal recommendation if we were ignoring the price. But since this list is focused on beginners, who are likely to be price-conscious, my personal recommendation is the next knife, by J.A. Henckels.
J.A. Henckels 8 Inch Classic Chef's Knife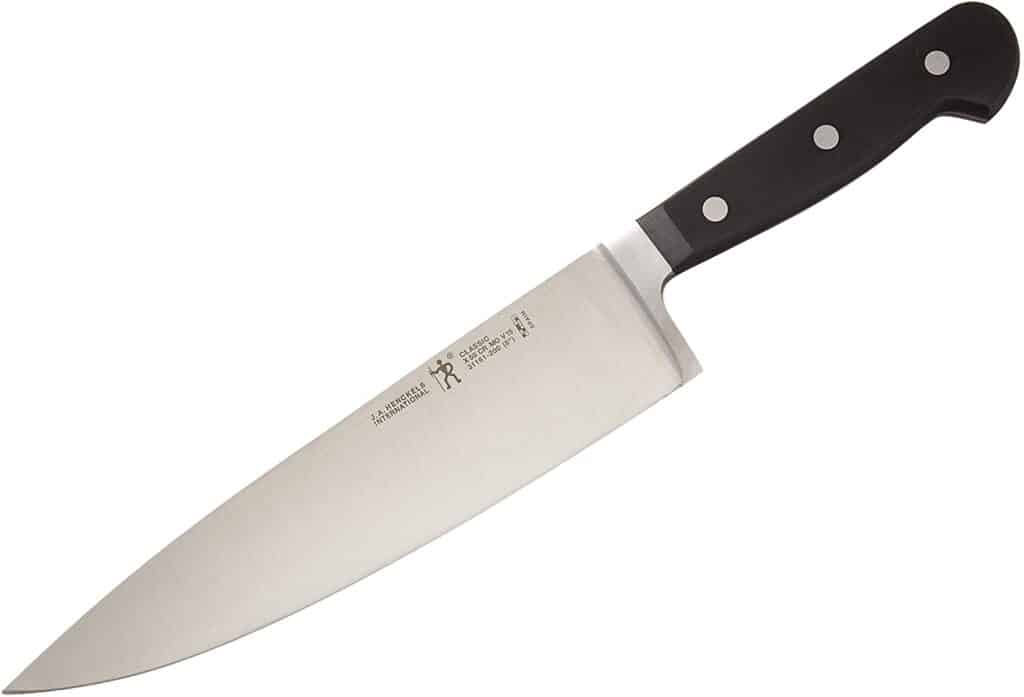 View on Amazon (opens new tab)
J.A. Henckels are another german giant. They have many of the same principles as Wüsthof in that they stick to classic, tried and tested designs and use hard-wearing materials that are ideal for durability.
The difference is that the quality is not quite as good, as a result, J.A. Henckels knives are often a good amount lower in price than Wüsthof, which makes them ideal for a beginner.
This 8 inch chef's knife uses the same X50CrMoV15 steel as the Wüsthof. That means it has the same 0.55% Carbon content and the high 15% Chromium content. As a result, it can be sharpened to an angle between 15 – 20 degrees, ideal for a western chef's knife, and it's very resistant to any rust as it's a high-quality stainless steel.
The blade edge is well curved allowing for easy rock chopping, the blade has a full bolster meeting the handle and a full tang. The handle is triple-riveted and made from durable thermoplastic material.
This is a classic knife, using good quality materials that will last. It's similar to the Wüsthof in many ways, if just slightly lower in quality.
The main difference though is it can often be bought at a 50% – 70% lower price than the Wüsthof which represents great value for money.
For me, all those reasons combined make it the perfect beginner chef knife for both a professional and home cook.
Wüsthof 8 Inch Gourmet Chef's Knife

View on Amazon (opens new tab)
I've mentioned it earlier in the article, but if you are a chef beginning a professional career I'd have to recommend you choose one of the two knives above. They are the best two on this list and have been designed specifically to last in a professional kitchen.
However; if you're a home cook and are looking for something at a lower price range then this Wüsthof from their Gourmet range could be a great choice for you.
It uses similar materials as the Classic Wüsthof but is around half the price. It achieves that by simplifying the knife making process in a number of ways. The result is a quality knife that isn't quite as sturdy as the Classic version but is still plenty good enough for a home kitchen.
The blade uses the same X50CrMoV15 steel as the Classic version. The difference is that instead of being a forged piece of steel like the Classic version is, the Gourmet chef's knife is made from stamped steel.
That means it has effectively been stamped out of a larger sheet of steel. Historically stamped blades have been significantly less durable than forged blades, but as technology improves this difference has become less and less.
Given that the Gourmet knife is around half the price of the Classic knife and uses the same steel, the stamped blade is not a bad compromise to make.
Since the blade is stamped there is no bolster and it just goes straight into the handle.
The handle itself is made from synthetic polypropylene, a durable thermoplastic that will be able to withstand the temperature and moisture pressure of the kitchen.
It's a lightweight knife and comfortable to use. For the home cook, I think this is a brilliant choice. You get a quality Wüsthof knife, using the same quality base materials but for half the cost of the Classic chef's knife.
For a professional chef's I think you're better off choosing one of the forged steel options above due to their increased durability.
Victorinox 8 Inch Fibrox Pro Chef's Knife

View on Amazon (opens new tab)
If you're on a budget but still looking for quality then Victorinox are an excellent choice.
Victorinox are a Swiss company founded in 1884. They are the original makers of the world-famous Swiss Army Knife, so they know a thing or two about making sharp blades.
Once again the steel used for this knife is X50CrMoV15, which means it's strong enough to have a reasonably sharp edge with good edge retention and its 15% Chromium content will prevent it from rusting.
Just like the Gourmet Wüsthof knife, this blade is made using stamped steel, which significantly reduces the cost but means it's more suitable for home cooks than professionals as stamped blades tend to be less durable than forged.
Since the steel is stamped there is no bolster. The handle is made from a thermoplastic elastomer, making it comfortable and very resistant to moisture and temperature fluctuations.
It's a lightweight knife, as stamped blades often are and there is a nice curve to the blade edge for rock chopping.
Overall it's a quality knife for the price, manufactured by a historic producer of knives. It uses great base materials but thanks to the lower production cost it's affordable even for people a tight budget.
Mercer 8 Inch Millennia Chef's Knife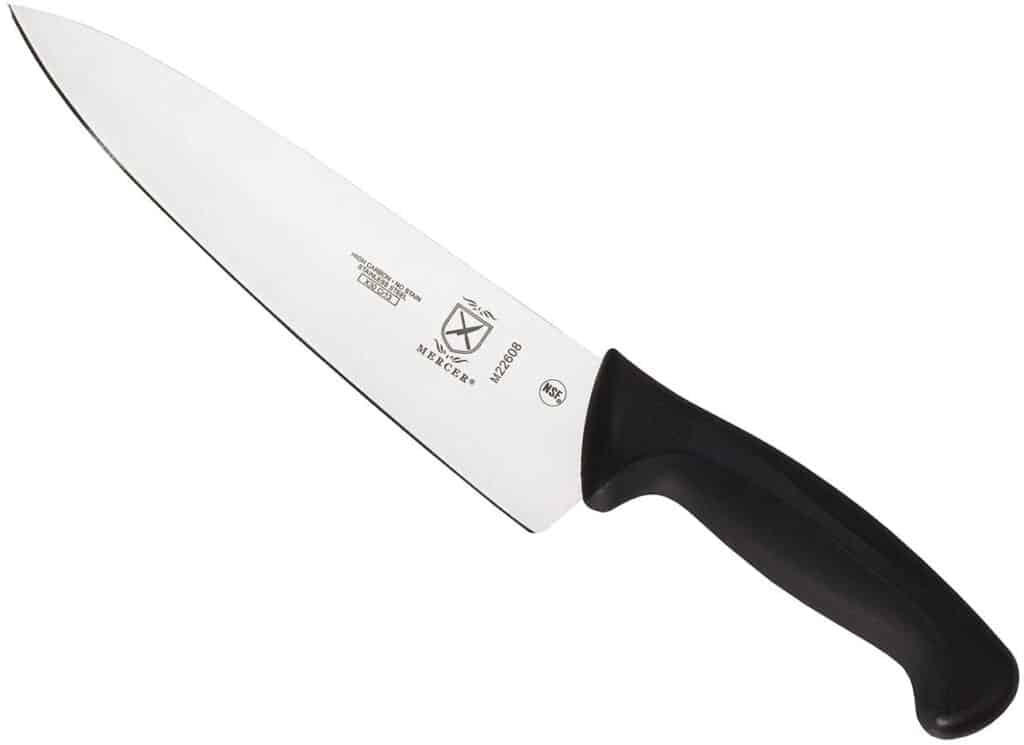 View on Amazon (opens new tab)
The Mercer Millennia is the last knife on my list because it's the least expensive. At this price range, you'll find it difficult to find a knife that can really compete with the others on this list, but it is still possible to find good value for money, this Mercer knife is an example of that.
The steel used for the blade is x30cr13 german stamped steel. It's far from being a great steel but is much better than many knives at this price range. The carbon content is pretty low at 0.35%, which means it'll handle around a 20 degree angle and you might have to sharpen it every month or so if you want to retain that level of sharpness.
The Chromium content is pretty good at 13 – 14%. That makes this quite a decent stainless steel. In fact, only a 10.5% Chromium content is required for steel to be regarded as stainless, so this is way above that.
For such an inexpensive knife that Chromium content is good and that's the main reason it's made it onto this list, as long as you take reasonable care of this knife then it shouldn't rust.
The handle is a thermoplastic so can withstand the temperature and moisture variations of the kitchen. Personally, I'd like a better curve to the blade edge than this has but compromise is to be expected at this price range.
Overall this is a good knife for the price. The steel is durable enough for most home kitchens and it's a lot better than many of the knives you'll find for a similar price.
If you're on a very tight budget then this is undoubtedly a good choice to begin with.
What to look for in a chef's knife
There are a few signs to look for when choosing a chef's knife.
Lots of articles online focus on things like the 'a comfortable handle' and 'sharpness', well that's kind of obvious, I'm going to try and list some more specific things that actually give a good overall indication of quality.
The steel origin and composition
The steel your knife is made from is probably the most important thing to look for, and it's the one thing hardly anyone buying a knife researches. You'll see from my descriptions above that I name the exact steel for each knife.
Country of origin is a basic sign to show whether a steel is going to be good. If it's German or Japanese then there's a good chance it's quality. German steels are generally made for durability whilst Japanese steel is generally made for hardness (which in turn allows for a sharper knife).
Additionally to that, once you know the exact name of the steel you can do a Google search for its composition, what exactly is it made from.
For beginners I'd recommend just focusing on two things, Carbon and Chromium.
A higher Carbon content increases the hardness of the steel, but it can also make it more brittle and therefore prone to chipping or even snapping completely.
Chromium is the element that makes stainless steel rust-resistant. The higher the content the higher the resistance.
Typically western knives, like the ones on this list, only have moderate Carbon content and high Chromium content as they focus on durability.
Japanese knives are more likely to have high Carbon content as they focus on sharpness.
As a general guide, this is how I would categorize Carbon and Chromium content.
| | | |
| --- | --- | --- |
| Category | Carbon content | Chromium content |
| High | > 0.9% | > 14% |
| Medium | 0.5% – 0.9% | 13%-14% |
| Low | <0.5% | <13% |
To have a knife in both those high categories is pretty rare. But if a knife is in at least the medium category for both then it's a pretty decent knife.
In the list above only the $20 Mercer is in the low category for Carbon, but it does make the Medium category for Chromium.
Check the country of manufacture
I actually find this less important than the steel used. There are a few very good knife companies (Zelite and Dalstrong spring to mind) that use quality Japanese steel for their knives but actually manufacture them in places like China.
Ultimately I think that's fine as long as the price reduction is passed on to the customer. The key thing is using quality materials.
But often you'll find knives marketed as 'High Carbon', 'Razor Sharp' and 'Quality Stainless Steel', but when you actually look into the detail the steel is some obscure Chinese steel with very little information about it and it's all produced in China, I'd stay well away from these.
You'll even often see knives marketed as 'Japanese Knives', when in fact the knife neither uses Japanese steel nor is manufactured in Japan, to me that is just blatant false marketing, but it happens a lot!
Check if it's forged or stamped
This one is pretty simple. Forged steel is thought to be better, and it's more expensive. Historically forged steel was a lot better than stamped but recently that gap has become slimmer.
The difference is that stamped blades are literally stamped from a single piece of flat steel, like a cookie-cutter.
The easy way to identify them is that stamped knives won't have a bolster. That's the thick piece of metal that connects the blade and handle, the blade will just go directly into the handle.
Is stamped steel bad? No, it isn't, I've listed three stamped blades in this article, but it's worth knowing because stamped steel is significantly less expensive than forged so you should never be paying too much for it.
Equally, if there is a knife manufacturer you really like but their standard range looks too expensive, it might be worth checking to see if they have a stamped steel range as they will often use all the same base materials but with a huge price difference, just like the Wüsthof Classic and Wüsthof Gourmet knives I've mentioned above.