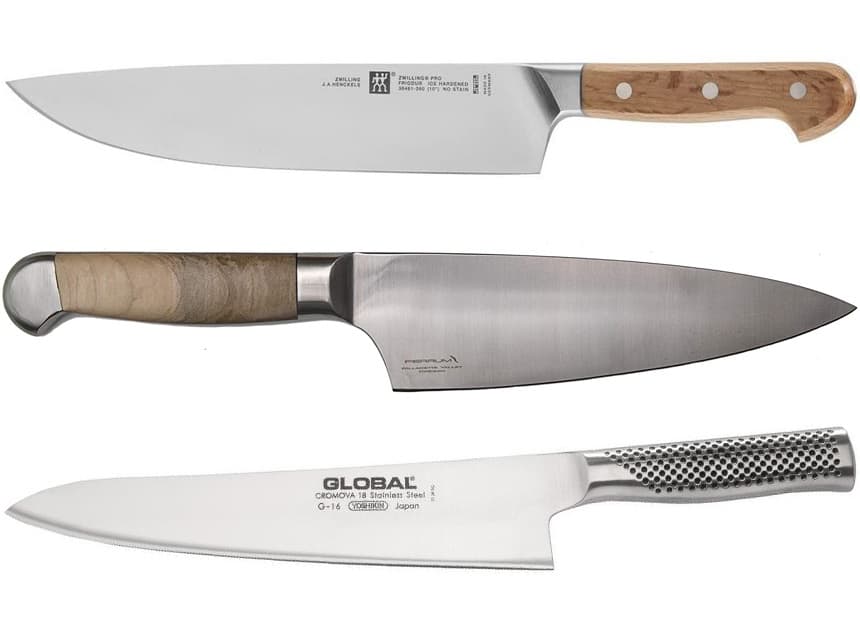 ---
Knives are far from a one size fits all item. A good chef's knife should feel like an extension of the user's own body, an extra limb for slicing, dicing and chopping in the kitchen.
When it comes to chef's knives, size really does matter. In this article, I'm going to show my personal recommendations of chef's knives for cooks with big hands.
Comfort, precision, and durability are some of the things that chefs look for when picking a knife. However, those chefs with large hands know that they need to pick a cutting tool that's longer than average.
The knives I'm going to recommend in this article are ideal for cooks with large hands. They are not only long but are designed with great ergonomics, making them comfortable to handle.
Before we get into the full details, here's my overall favorite knife recommendation for users with big hands, if you want to see my other recommendations then continue reading the article.
I would recommend the Global 10-inch chef's knife for users with big hands. This knife is ultra-durable, with a very high Chromium content meaning it's extremely rust-resistant. The handle is hollow which reduces weight and has added non-slip dimples to improve grip.
In a hurry?
You can take a look at the Global 10 Inch chef's knife on Amazon here.
How to choose knife length
Large handed users are generally going to need a knife with a blade length longer than 8 inches.
The easiest way to determine which knife length is right for you is to measure your forearm. If you have a knife then lay it against your forearm with the heel at your wrist and tip point to your elbow, you're looking for a knife with the same length as your forearm.
If you don't have a knife then you can just do this process with a measuring tape.
This is a great, quick video which shows the forearm test method:
My below recommendations consist of quality chef's knives with blade lengths ranging from 8 to 10 inches.
I'm certain you'll find one that suits you.
Best chef's knives for big hands
Here's my full list of chef knife recommendations of the larger handed user. If you want to see a more detailed review for each knife then scroll down below.
Zwilling J.A. Henckels 10 Inch Chef's Knife

View on Amazon (opens new tab)
Zwilling J. A. Henckels is a top knife brand that's based in Solingen, German. Having been making top quality kitchen knives for many decades, this brand perfectly understands what it takes to make a good chef's knife. It has a good global reputation due to the quality of its products which are durable and long-lasting.
This 10 inch Henckels knife is one of the best options for cooks with large hands. The lightweight cutting tool also weighs 0.82 lbs. This makes it ideal for use for longer periods.
This German designed knife doesn't give in easily to wear and tear. Even after being subjected to extensive use, this item will serve any home cook or professional chef for years. Its durability and effectiveness are facilitated by the alloy steel blade material.
Whether you are into Asian chopping or western cutting, this is an ideal knife for any professional who wants to feel the firm grip of a sharp cutting tool.
This 10 inch chef's knife makes a great addition to any kitchen. Its appearance as well as the handle are esthetically pleasing and provide chefs with much-needed comfort. It's designed with a handsome wood grain covering the Mediterranean holm-oak handle that provides an attractive look and wonderful feel.
Key Features
Alloy steel bland for durability and high level of sharpness
Curved ergonomic bolster for safe and comfortable handling
Suitable for cutting, slicing, and dicing
A long blade and comfortable wooden handle for safe and precise cutting with less fatigue
Pros
Classically designed German style
Suitable for long-lasting use
The blades have superior resilience and stay sharper for longer.
Shun Classic 10 Inch Chef's Knife

View on Amazon (opens new tab)
Shun Classic is made by Kai company, a household name in Japan. Kai Group has a history that goes back to over 800 years! Yes, they have been in this industry for more than 8 centuries, crafting and making blades that make some of the best additions to traditional cutlery.
This 10-inch knife is exceptional in its design. It weighs only 8.6 ounces, making it easy to handle despite its length. Its cutting core is made with durable VG-MAX steel that is reliable and ideal for long sessions of use. Kai also used an innovative proprietary formula to design its blade material.
This includes chromium, tungsten, cobalt, and carbon. The powerful blend of premium materials creates a blade that's powerful, corrosion-resistant, and extremely sharp. For home cooks and professionals looking for a quality knife, this Shun Classic is one of the best alternatives on the market.
The 10-inch knife comes with a D-shaped handle that provides a comfortable grip. Kai Group doesn't compromise when it comes to safety and comfort and so this knife's handle features ebony PakkaWood. This is a premium type of hardwood that durable and resistant to water.
Key Features
10-inch chef's knife for enhanced leverage and increased reach
VG-MAX steel cutting core for increased durability, reliability, and resistance to corrosion
The blade is comprehensively made with 69 layers of materials for increased durability
D-Shaped Ebony PakkaWood handle that's infused with resin for durability
A long and sharp blade that effectively and precisely cuts through large chunks of food
A versatile kitchen knife for handling a broad range of tasks such as chopping, dicing, slicing, cutting, mincing, cubing, and trimming
Has a traditional design and made with the latest cutting-edge technology and innovation
Pros
A classic cutting tool that fits alongside other pieces of contemporary cutlery
D-Shaped handle for comfortable grip by large hands
Elite piece of cutlery that's ideal for personal and professional kitchens
Zelite Infinity Chef Knife 10 Inch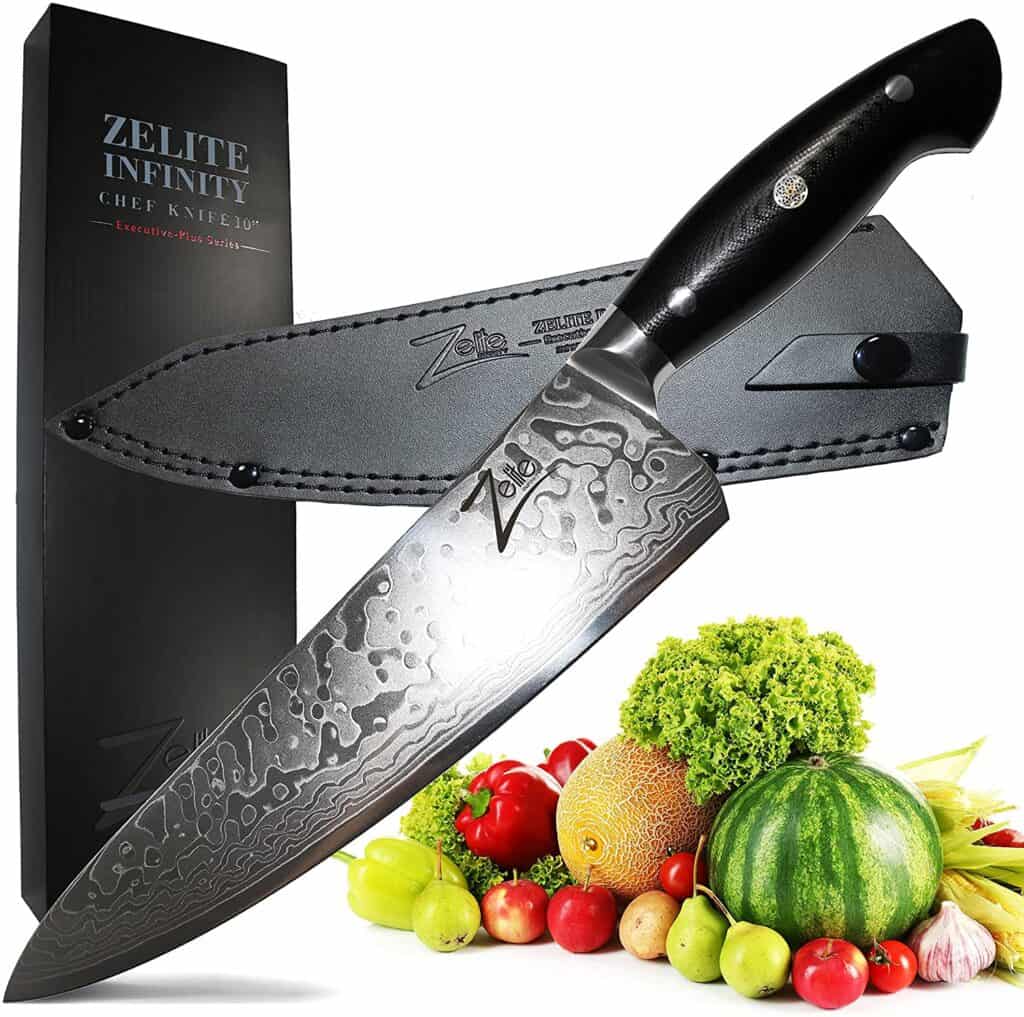 View on Amazon (opens new tab)
If you are a fan of high-end and unique pieces of cutlery, then the Zelite Infinity could suit you perfectly. The high-grade brand was created with only one goal – to provide customers with the best chef knives. All their knives have high levels of edge-retention, great balance, comfort, and provide and overall amazing performance.
For cooks who want knives that offer value for money, Zelite Infinity's knives are a great option. Zelitle know what makes a good knife and that's why the 10-inch Executive Plus series doesn't disappoint.
The premium knife which weighs 1.94 pounds has proved to be an elite performer. Its functionality is enhanced by the Japanese AUS-10 super-steel plus a 45-layer high-carbon stainless steel. These two materials perfectly blend to create a strong and sharp blade that's aesthetically appealing.
The quality tool has been carefully polished with a tsunami-rose Damascus pattern. It's a beautiful design and adds an element of individuality to your kitchen.
The blade offers a high level of precision, providing the perfect knuckle clearance thanks to its rocking-motion design of cutting. Zelite Infinity also offers you a high level of comfort. Your kitchen sessions will definitely feel easier thanks to the comfortable hump-bank handle that can effectively accommodate large hands and provide firm support.
Key Features
An executive chef's knife that stainless steel material for reliability and durability
10-inch kitchen knife with superb functionality
Razor-sharp blade with a refined cutting angle for incredible sharpness and user safety
A multipurpose piece of cutlery that's ideal for cutting, chopping, and dicing among other things
Robust, durable, and innovate "humpback" handle for better control and high level of comfort
Pros
It has a comfortable handle that suits large hands
Its non-stick blade offers maximum precision and encourages the rocking-motion cutting style
A stain and rust-resistant knife that is easy to wash and maintain
For safety and ease of storage, the knife comes with an ultra-premium leather sheath.
Global 10 Inch Chef's Knife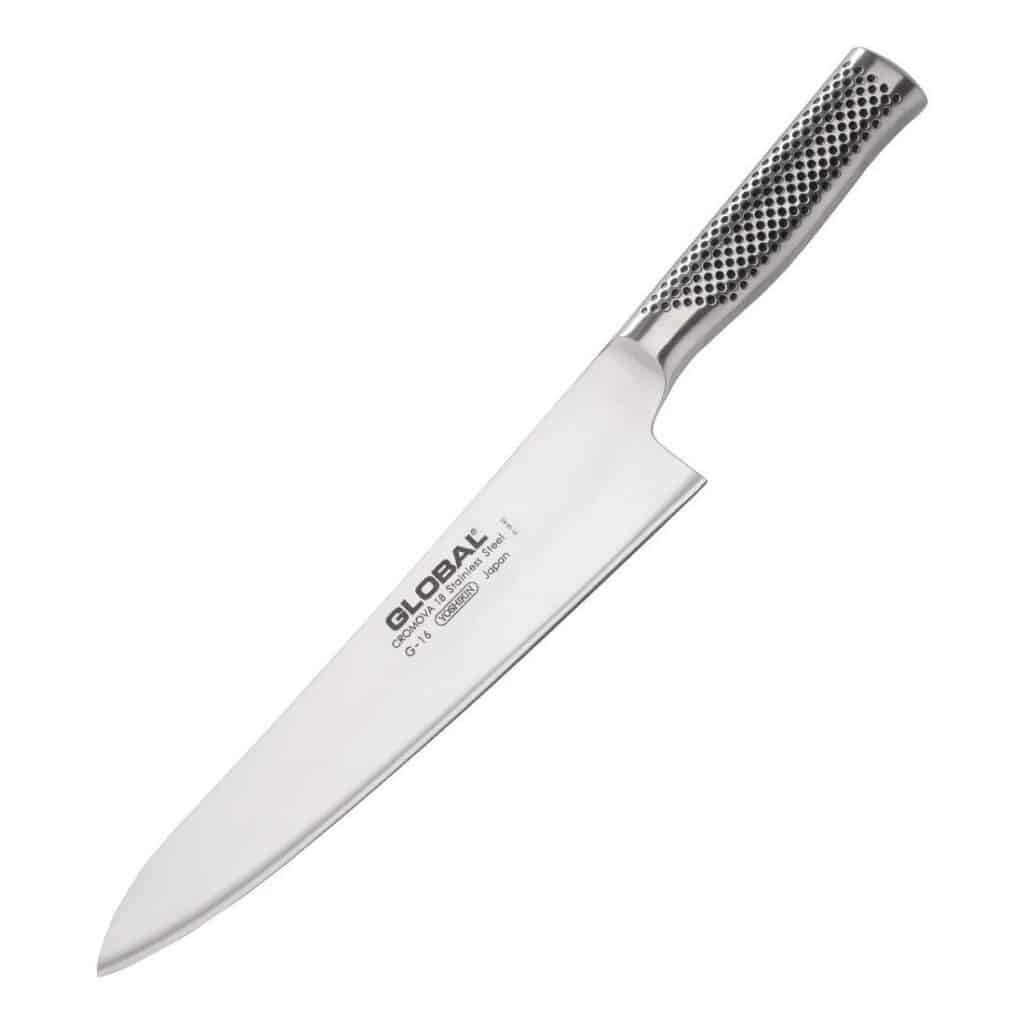 View on Amazon (opens new tab)
Global is a revolutionary brand and there is no doubt that its 14.1-ounce is a game-changer. It has been in the industry for over three decades and the most outstanding things about it are the modern design concepts as well as using quality materials.
Global knives are usually made with the finest stainless-steel material. They have been carefully crafted and designed, so they precisely cut through food like the samurai sword. For a cook looking for a functional set of knives with great appeal, this is one of the best brands to consider.
This 10-inch chefs' knife is an outstanding tool, and is well suited for cooks with larger hands. Its functional design includes the lightweight nature and well-curved handle that helps to reduce hand fatigue. Besides that, the knife has a razor-sharp edge, a signature style that promotes efficiency.
While you might find that this knife appears like most western knives. It's actually unique in that it has edges that are ground steeply to form an acute angle. This feature creates a dramatically sharp knife that's easy and safe to use, especially when chopping and cutting.
The efficiency of this cutter is also facilitated by the Cromova 18 stainless steel. Cromova 18 is a material that features a mix of chromium, molybdenum, and vanadium. This makes the blade hard enough yet easy and soft to sharpen with a whetstone.
Key Features
Razor-sharp and lightweight chef's knife
Ideal for use by both home and professional chefs
Its blade is made with the CROMOVA 18 stainless steel for long-lasting durability.
Comes with a lifetime warranty against breakages and defects
A well-balanced 10-inch knife that's highly versatile. It's effective for mincing and chopping among others.
Large, comfortable, and lightweight hence ideal for use by chefs with large hands
The stainless steel handle has been carefully crafted and dimpled for comfort and safety
Pros
A portable and versatile kitchen knife for home and professional use
Its functional and classic design gives it an attractive visual appeal
This knife offers great value for money.
Ferrum Estate 8 Inch Chef's Knife

View on Amazon (opens new tab)
This is the shortest knife on the list but it's still here for good reason. The main kitchen knife is often an item that needs to be shared within the household, and not everyone in it will have big hands!
This Ferrum knife combines the big bold ergonomic design, ideal for large hands, with the 8 inch long blade which should be easy enough to control for most people.
Ferrum Technology is a company that has been hell-bent in breaking the rules when it comes to making cutlery. Its knife standards are top-notch, something that you won't find anywhere easily.
Located in Oregon, US, Ferrum uses American steel to create quality American knives. Their products are hand-crafted and made by experienced professionals who certainly know their way around a knife.
For starters, the Estate Collection is the brand's workhorse line. The well-stabilized solid handles are creatively made with the reclaimed blonde calico maple. They are thereafter hand-blended to effectively fit within the double bolster design. As a result, this collection offers a beautiful and quality option for an American made chef's knife.
Weighing just 1.12 pounds, the Estate 8-inch Chef's knife is ideal for long-lasting use. Leaving cooks who spend long hours in the kitchen will end up feeling less fatigued while using it.
Its efficiency is enhanced with cutting edge technology for safety and comfort. Ferrum used an industry-changing process, the Metal Injection Molding (MIM) technique to create the handle of this cutting tool.
The combination of a MIM handle and the high-carbon blade creates a durable and rust-resistant knife that's ideal for any kitchen. Generally, any cook will find this 8-inch knife enjoyable to use. Its sharp, has a comfortable grip, and provides greater control.
Key Features
The knife is made with an advanced metal forming technique for greater density and purity
It has a MIM handle and high-carbon blade for enhanced durability
8-inch long and provides a comfortable fit to chefs with larger hands
The handle is made with the reclaimed Northwest hardwood for comfort and firm support
The blade is hand-sharpened at a 16-degree cutting angle for preciseness and safety
Pros
Long, lightweight, and comfortable for lasting use
It has an outstanding edge retention
Comes with an egg-shaped handle for a solid grip and better control
Mac 10 Inch Hollow Edge Chef's Knife

View on Amazon (opens new tab)
Mac Knife's considers itself one of the best at marrying together the techniques of Japanese craftsmanship for a western market. The brand boasts of making well-shaped, polished, sharpened, and assembled precision tools for your kitchen. Since it was established in 1964, Mac Knife has sold over 25 million pieces of knives.
All their knives are equipped with a comfortable handle and a high-carbon razor-sharp blade for great performance. That's why its 12-ounce and 10-inch knife is one of the most sought-after in the market.
The hollow-edge blade is highly versatile, and the dimpled edge prevents food from sticking to the blade whilst cutting.
Its original steel construction blade provides a high level of precision while its handle offers greater control and comfort. Its efficiency is promoted by the straight handle which is in line with the blade's spine.
This is a lightweight, durable, and high-precision tool that makes a great addition to any kitchen. The Hollow Edge Chef's Knife has a pointed tip, thin, and sharp blend that merge to form a safe and effective tool. It's ideal for slicing fruits and vegetables as well as chopping pieces of meat.
It's a very popular knife amongst professional chefs and is renowned to make quick and easy work out of any food type.
Key Features
High-carbon Chrome/Molybdenum/Vanadium steel blade for greater edge-retention
Light-weight and highly portable due to the thin blade and lack of a bolster that eases weight stress on your hand/arm
The knife is fully-tapered from the spine to edge and has a V-shaped blade that perfectly and easily glides through food edibles with ease
Made with an attractive Pakkawood handle that resembles natural wood.
A 15-degree blade angle for safety and effectiveness in chopping
Pros
The knife is easy to sharpen
It effectively distributes its weight, thereby creating a better sense of comfort and control when holding the knife
Durable and ideal for lasting use
Comes with a 25-year warranty
Dalstrong Chef Knife 9.5 Inch Phantom Series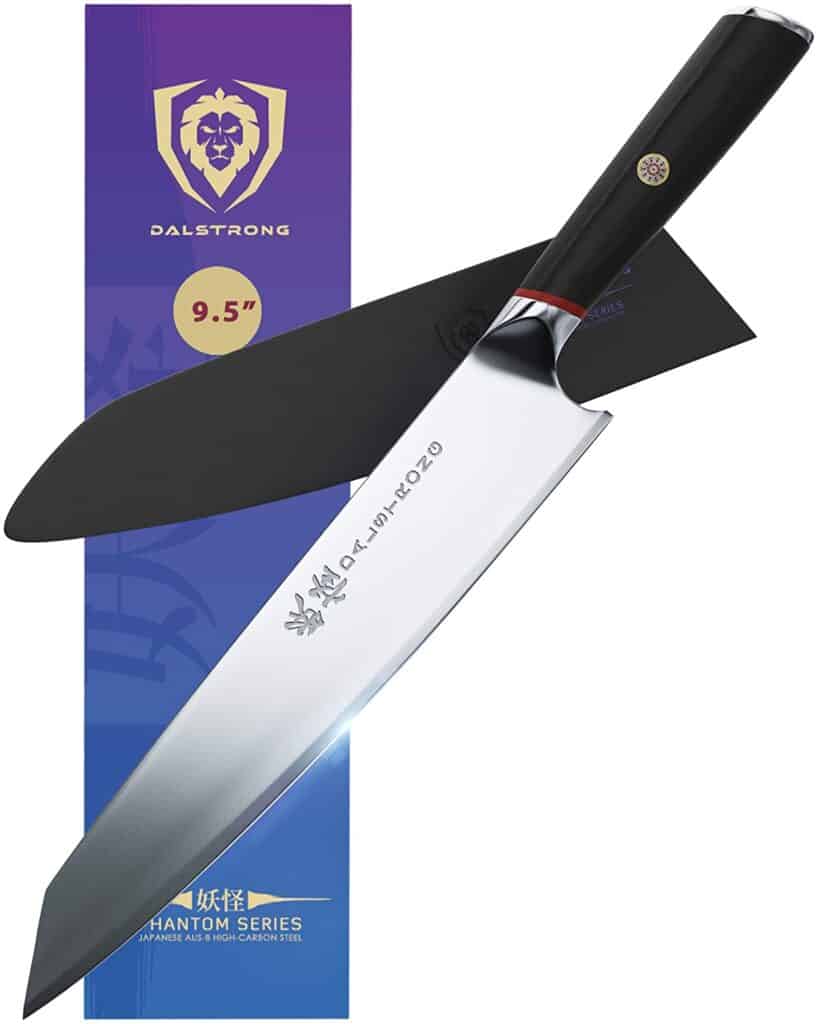 View on Amazon (opens new tab)
Dalstrong is all about ensuring that you enjoy your kitchen experiences. That's why the brand has been at the forefront to ensure that you get the best cutlery for an amazing culinary experience.
Dalstrong painstakingly employs the latest technology to craft exceptional and high-performance knives. This brand uses high-tech manufacturing processes including crypto-tempering to improve its crystalline stainless steel knives with stronger structures.
This 9.5 inch 7.1-ounce chef's knife is an outstanding piece of knife manufacture. Its peak performance is marked by the merciless phantom series edge with a single bevel blade. It has been immensely sharp 13-15 degree angled blade. If that wasn't impressive enough, the blade has also been cooled in nitrogen for enhanced hardness.
Thanks to those unique manufacturing processes, this knife is considered a powerhouse. Not only does it have a razor-sharp edge but it's an elegant piece of steel that is refined to shine beauty and efficiency. This cutting tool comes with a paper-thin narrow blade to slice through food. It quickly goes through even tough fibers without sticking, pulling, or tearing.
The 9.5-inch Phantom Series has top quality edge retention that means sharpening is required far less frequently. Its high precision, full tang design in addition to the ergonomic bolster make it a pleasure to handle and easy to control. Combined with the generous 9.5 inch length these features make it ideal for cooks with big hands.
The handle is engineered with a D-Shaped tuck that perfectly fits into the palms of your hand. As a result, it gives you the ultimate control as you effortlessly slice and chop your way through various products. For a better aesthetic appeal and a touch of luxury, the knife comes with a distinct brass and copper pin.
Key Features
Made with a high-carbon Japanese AUS-8 steel that's durable and reliable
Comes with a 3.5 mm blade that provides the right push, rigidity, and heft
Comfortable and durable Pakkawood handle that provides the perfect level of control and comfort
Ideal for handling a wide range of food products from vegetables to boneless proteins
Its bolster and polished spine blend to enhance grip and performance
D-shaped handle that firmly fits into the hand for a solid grip and better control
Pros
It's a long and lightweight knife that perfectly fits in large hands
Durable, reliable, and rust-resistant
It produces precise cuts, has minimal drag, and requires very little effort