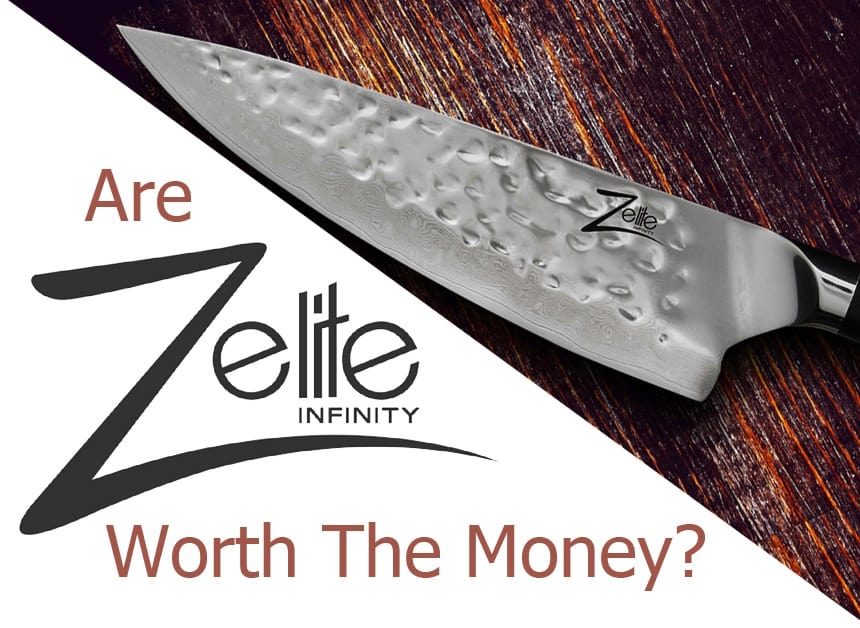 The world of kitchen knives can be surprisingly complicated.
There are a huge array of different knife types, styles and brands, it can be hard to know if a particular knife is the one you really need.
It's also difficult to know which brand offers true quality.
There are a lot of kitchen knives that try to pass themselves off a top-quality but are actually made from low-grade steel.
But how about Zelite, you may have seen their knives online but are they any good?
In this article, I'll discuss everything I know about Zelite knives, from where they're made, to the quality of materials and guide you on whether a Zelite knife is right for you.
Zelite knives are made from high-quality materials and they are certainly very good knives. Their brand isn't quite as strong as the big manufacturers like Wüsthof, but as a result, you're able to get a high quality, and uniquely designed knife for less money than the big brand equivalents.
The best Zelite knife I would recommend is the Infinity 8 Inch knife. It's made using quality materials and is $30-$50 less than knives of similar quality from the big brands.
You can take a look at the Zelite Infinity 8 Inch knife on Amazon here.
But if you want to learn more about Zelite, then read on.
Who are Zelitle
Zelitle are a relatively small and family owned knife producer.
They made a range of quality kitchen knives, using German and Japanese steel.
Zelite knives tend to be designed in a less traditional way than other brands such as Wüsthof or J.A. Henckels.
They have a fantastic range of different knife types, which also range quite widely in terms of price.
I have found that Zelitle is a brand that is able to offer a really quality knife for a lower price than most of its competitors.
Their knives are also very distinguishable, with unique designs running throughout their range, it isn't hard to identify a Zelite knife even without seeing the branding.
Where are Zelite knives made
Zelite knives are made in China.
That might not sound like the best starting point for a quality knife but bear with me.
The knives are manufactured in China but they are made using imported steel from either Japan or Germany depending on the knife.
That means Zelite is able to utilize all the cost-reducing benefits of having a Chinese manufacturer, whilst still only using the highest quality, Japanese and German materials.
This in turn reduces the cost for the consumer and allows you to buy a top-quality, Japanese steel knife for much less than most other equivalent knives on the market.
Are Zelite knives worth the money
Zelite knives are certainly worth the money. I think you get a very high-quality product for the price you pay.
Their knives typically range from $50 – $150 depending on the size and quality of the knife.
For a premium chef's knife that's not bad at all and I have found that Zelite knives will usually cost around 20% less than similar knives from other brands.
In fact, I have written a whole article on the best chef's knives under $200 on which the Zelitle features as one of the most inexpensive (around $50 less than brands like Mac), even though it uses top-quality Japanese steel called AUS-10.
You can take a look at my list of best chef's knives under $200 here.
My Zelite knife recommendations
Zelitle has a huge array of different knife types but by far the most popular are the Chef's knives and Santoku knives.
There are slightly different ones in their range but these are the two that I think are the best for what you pay.
If you're not sure which size knife you should get then I have written a guide on which sized knife you should buy here (scroll down to the 'choosing the size' section).
Best Zelite Chef's Knife
Zelite Infinity 8 Inch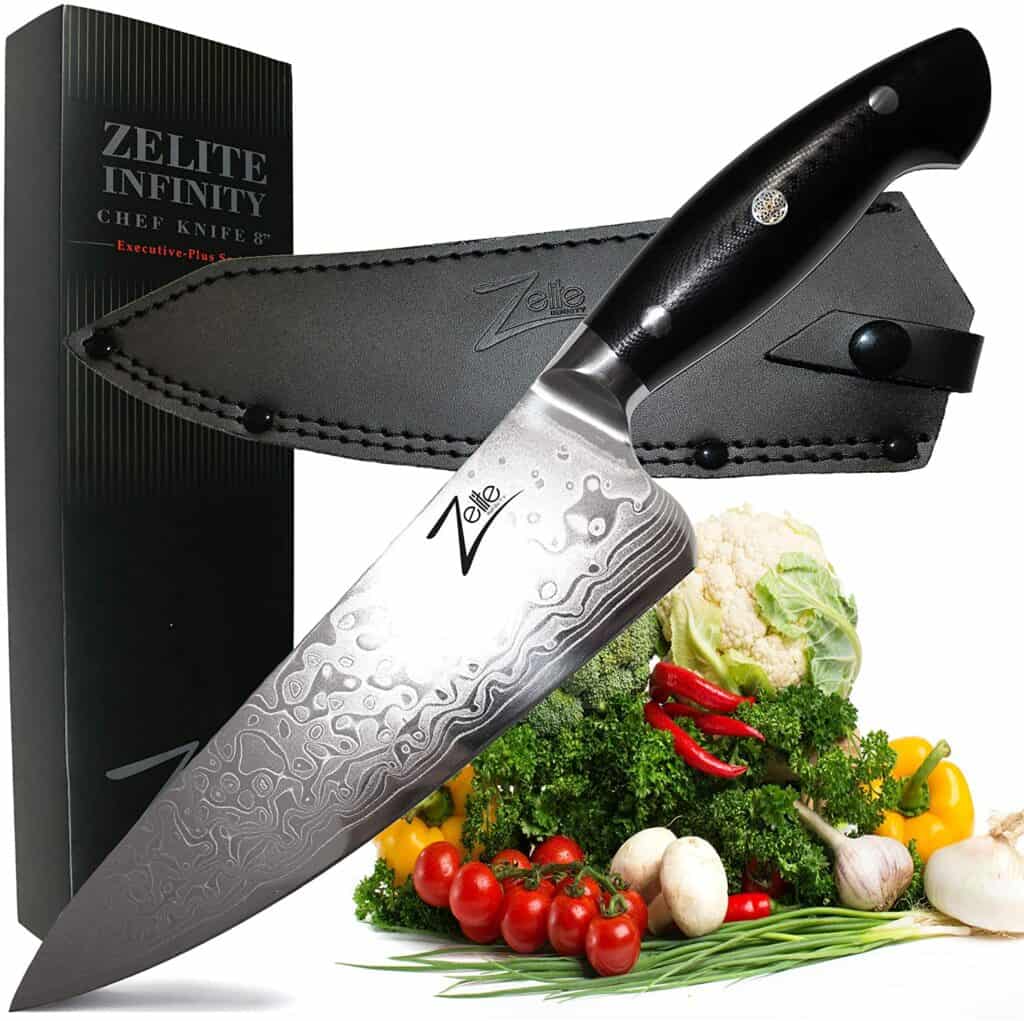 The knife blade is made from a top-quality, very high carbon steel called AUS-10.
This is a well-renowned steel in the knife world.
As high carbon knives can become quite brittle, this steel has added nickel, manganese and silicon to improve the flexibility of the blade. The addition of vanadium, chrome and molybdenum to the steel also increases its resistance to rust and corrosion.
Overall this highly technical steel is super strong, allowing for a great cutting edge, whilst still remaining durable.
The blade is polished with Zelitles own 'Tsunami Rose Damascus Pattern', in a typically Japanese style.
The knife has a partial bolster and full tang into the handle.
The handle is triple-riveted and shaped ergonomically, with a humped back and completely smooth circular length made specifically for comfort. Zelite is excellent at designing their knives for maximum comfort and they have certainly achieved that here.
The knife also comes with a useful blade sheath which protects the knife from damage when stored and helps to keep the blade sharp for longer.
It's a great knife using quality materials with a very bold design, Zelitle is a relatively small family company but they have amassed a strong reputation for quality.
You can take a look at the Zelite Infinity 8 Inch knife on Amazon here.
Best Zelite Santoku
Zelite 7 inch Santoku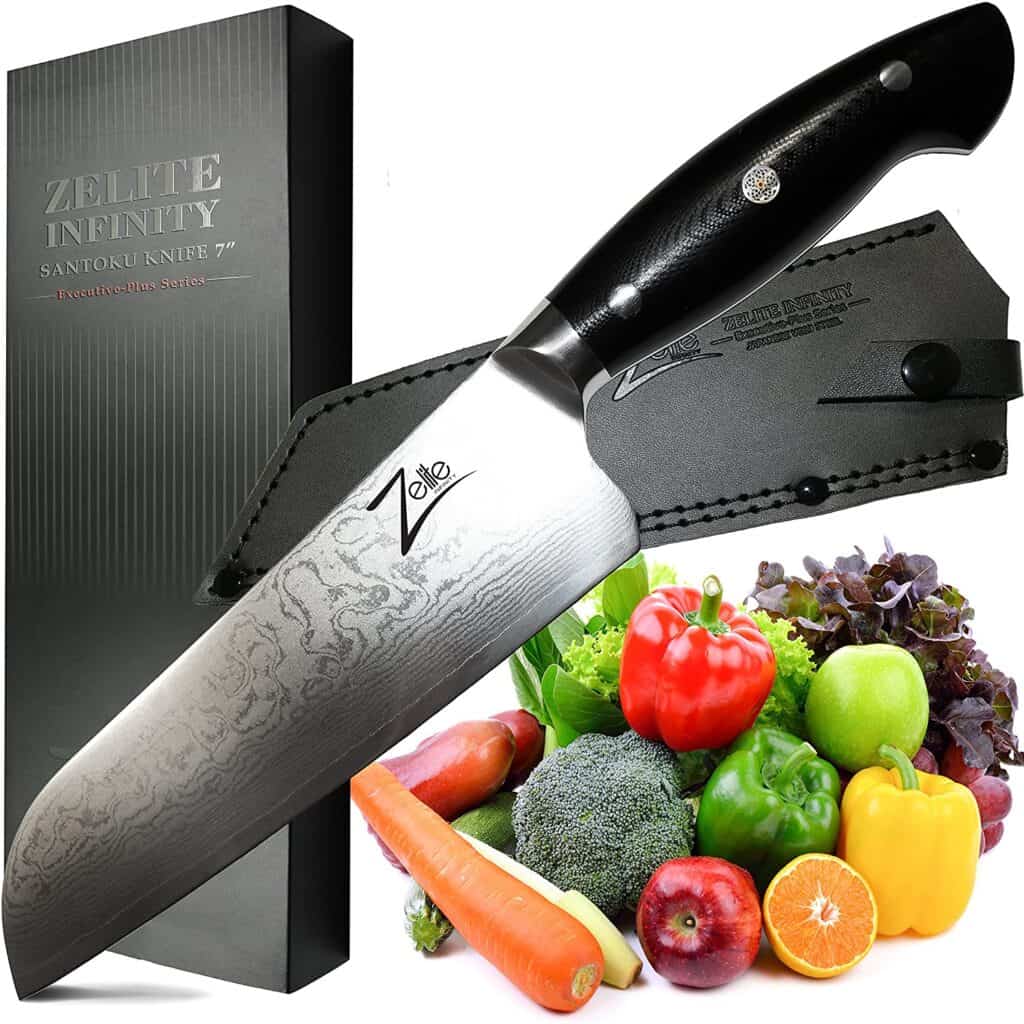 This knife uses a VG-10 steel core. It's fantastic Japanese steel that is high in carbon but also contains a mixture of chromium, molybdenum, vanadium and cobalt.
That means that it's very resistant to rust and corrosion (thanks to its 15% chromium content) as well as being more flexible than other high carbon knives, increasing its durability.
The core steel is clad in 67 layer Damascus with a beautiful Tsunami Rose Damascus Pattern finish which is unique to Zelite. The blade has a partial bolster and full tang going into the riveted handle.
Like all Zelite knives, the handle has been specifically designed for high ergonomics rather than sticking to conventional Japanese designs.
It has a humpback and underside with a ridge at the rear. It is very comfortable to hold and the shaping makes it easy to control the knife as it doesn't tend to slip very easily.
There is a generous heel on the knife allowing for plenty of room for your knuckles and the edges of the blades are quite rounded to provide extra safety.
This is a very practical knife using top quality materials. It's significantly less than the two I've already mentioned but you still get a VG-10 steel core in a very well designed knife so it's quite a good deal if you're looking for a high-performance Santoku.
You can take a look at the Zelite 7 inch Santoku on Amazon here.