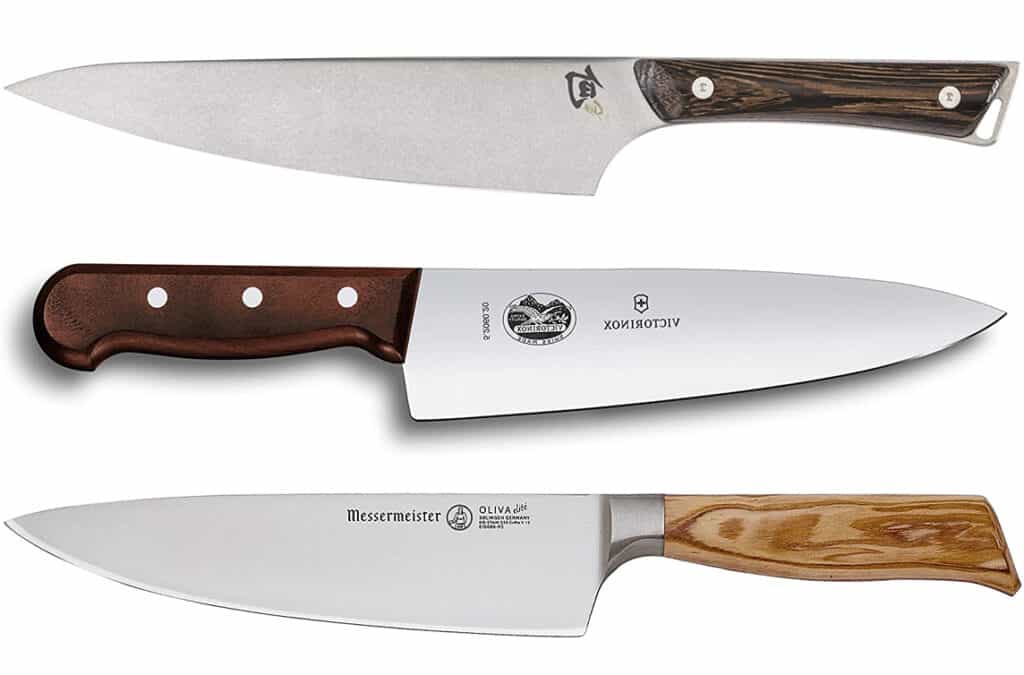 You'll use a chef's knife pretty much every time you cook, so sometimes it's worth choosing one with a bit of added style.
Choosing a chef's knife with a woden handle is a great option, they are beautiful, lightweight and often more comfrotable than thermoplastic handles.
In this article I'll run through some of my favourite Chef's knifes with wooden handles.
My personal recommendation would be the Messermeister Oliva Elite 8 Inch knife. It's a stunning knife, but it's also been designed in the classic western chef's knife style and uses high-grade German steel making the blade very durable.
View My Top Recommendation
You can take a look at the Messermeister Oliva Elite Chef's Knife on Amazon here. (opens new tab)
There are plenty of other options too which I'll list below. You might prefer a chef's knife of a slightly different shape or size to the Messermeister so it's worth having a browse through them.
The best chef's knives with wooden handles
Wooden handles are a beautiful additional to a knife, and there are some brilliant ones to choose from at all different prices, here's my list of recommendations.
Scroll down for a further review of each knife.
Messermeister Oliva Elite 8 Inch

My Top Pick
View on Amazon (opens new tab)
Messermeister Oliva Elite 8 Inch Review Table
| | |
| --- | --- |
| Country of manufacture | Germany |
| Steel type | X50CrMoV15 (Very durable German steel) |
| Rockwell hardness | HRC 57 |
| Factory edge | 15 degrees (double bevel) |
| Handle material | Olive wood |
| Pros | Durable materials and incredibly beautiful design |
This Messermeister Elite 8 Inch takes its design from the classic western chef's knife style but incorporates a stunning olive wood handle instead of opting for the traditional riveted black handle.
Messermeister makes a range of terrific knives, and many are very classic like their elite 8 Inch knife with a black handle which you can see on Amazon here. But I just love this Oliva version of their Elite line.
The steel used for the blade is a german stainless steel called X50CrMoV15. As you would imagine it is very durable and resistant to rust and corrosion as well as having great edge retention.
The cutting edge is very well curved allowing for an easy rock chopping motion. The blade has a partial bolster connecting the handle and a full tang so it's a very strong knife overall.
The handle is made from Italian olive wood, shaped into a classic ergonomic style, it is well rounded, comfortable and absolutely beautiful.
Olive wood is not as durable as pakka wood or thermoplastic handles so I would advise that you take a bit better care of cleaning this knife, don't leave it soaking in water at don't put it in the dishwasher (it is actually advertised as dishwasher safe but honestly I would strongly recommend against that).
Shun 8 Inch Kanso Gyuto

View on Amazon (opens new tab)
Shun 8 Inch Kanso Gyuto
| | |
| --- | --- |
| Country of manufacture | Japan |
| Steel type | AUS-10 (High-quality Japanese steel) |
| Rockwell hardness | HRC 61 |
| Factory edge | 12 degrees (double bevel) |
| Handle material | Tagayasan timber |
| Pros | Super hard steel for great edge retention |
Shun are a well-known Japanese brand and are very popular in the US. One of the main reasons is that they have married the design of western and Japanese knives very well and made ranges of distinctly Japanese knives that are still well suited to western markets.
Shun always use a well-balanced steel, one with enough carbon for a very fine edge but enough durability to suit the expectation of today's consumer.
This Gyuto from their Kanso range is no different and uses AUS-10, a quality Japanese steel.
AUS-10 has a Carbon content between 1 – 1.1% and a Chromium content of 13 – 14.5%. That means this blade could probably be sharpened to an edge of up to 12 degrees if you wanted to, although the factory edge is around 16 degrees. Of course, the sharper the edge to more care needs to be taken to prevent it from getting chipped so the out-of-the-factory edge is rarely as sharp as the steel can handle.
The Chromium content makes this a quality stainless steel so rust shouldn't be an issue.
The blade is full tang into the Tagayasan timber handle. Tagayasan is a hardwood and is very durable, it also gives a beautiful natural appearance to the handle and works brilliantly with the elegant blade design.
This is a very attractive knife using a quality Japanese steel and is produced in the Japanese knife city of Seki.
I think you get a hell of a lot of knife for your money with this one and I'm certain you'll find it tricky to discover a Gyuto of similar quality at this same price range.
Shun knives are always great, and this one doesn't disappoint.
Ferrum Estate 8 Inch

View on Amazon (opens new tab)
Ferrum Estate 8 Inch

Review Table
| | |
| --- | --- |
| Country of manufacture | USA (Oregon) |
| Rockwell hardness | HRC 61 |
| Factory edge | 16 degrees (double bevel) |
| Handle material | Maple wood |
| Pros | Beautiful design and classic shape |
Ferrum is a small producer of kitchen knives and they make a truly beautiful range. Ferrum offers a handmade knife, made to a high standard using great materials.
Ferrum employs a technique more commonly used in the medical device industry to forge the steel for their blades. They use a method of mixing different types of powdered metals and shaping the blade in a similar fashion to injection molding.
They claim to be the first cutlery producer in the world to use this method and it results in a sharper edge with better edge retention. This can certainly be seen on this Estate model which has a cutting edge of 16 degrees, which is pretty much as sharp as you can get on a western-style chef's knife.
The blade edge is beautifully curved and perfect for rock chopping, the blade has a partial bolster and full tang going into the very special, maple wood handle. The maple wood brings a great aesthetic quality to the already attractive blade and it's a smart choice of wood, being strong and durable. The Estate line is certainly that and it's known as the 'workhorse' line of Ferrum's knife range. The handle has also been well rounded so it feels very comfortable and sturdy to hold.
There is a generously sized heel on the blade, leaving plenty of room for your knuckles and combining well with the curved blade edge to make this knife ideal for rock chopping.
This is a truly beautiful knife made with some unique but high-quality materials, it's super sharp, well designed and offers something a bit more unique than the knives from the larger brands.
Victorinox Rosewood Chef's Knife

View on Amazon (opens new tab)
Victorinox Rosewood Chef's Knife Review Table
| | |
| --- | --- |
| Country of manufacture | Switzerland |
| Steel type | X50CrMoV15 (German steel that's ideal for durability) |
| Rockwell hardness | HRC 56 |
| Factory edge | 15 degrees (double bevel) |
| Handle material | Rosewood |
| Pros | Durable and attractive |
Victorinox is a knife manufacturer from Switzerland, in fact, they manufacture a whole host of things from travel gear to fragrances but they started way back in 1884 making Swiss army knives so they have a pretty good pedigree in knife making.
They make some very attractive knives too. They actually make a very good chef's knife from their Fibrox range which is cheaper than this one but I don't think it looks anywhere near as good and this rosewood model is still under $50. But if you don't care about the aesthetic then I'd recommend taking a look at it on Amazon here, both have the same cutting edge.
The 8-inch blade is made from stainless steel and has been shaped perfectly for a chef's knife. The curve of the cutting edge is ideal for rock chopping herbs and vegetables.
The blade is made from stamped steel so it doesn't have a bolster. Stamped steel is more lightweight than forged steel but it is not as hard, so there's a bit of a trade-off there. As stamped steel blades go, Victorinox is a top manufacturer so their stamped blade is very good and for under $50 I still think it's good value for money.
The main benefit of this knife is the beautiful rosewood handle, made in a classic style it really lifts this knife out of the ordinary and into a bit of a showpiece, which is pretty hard to attain for a knife under $50.
The handle is triple-riveted for extra strength and gives off an extra look of reliability. There is a good-sized heel and the width of the blade is perfect for choosing the blade with your index finger and thumb to give more control when rock chopping.
Overall this is a beautifully designed blade, the proportions are ideal and the handle is stunning. The only drawback is the stamped steel blade as forged steel is generally considered better, but for such an attractive knife, from a reputable manufacturer which does tick most of the boxes you want from a chef's knife, I think it's a great choice for under $50.