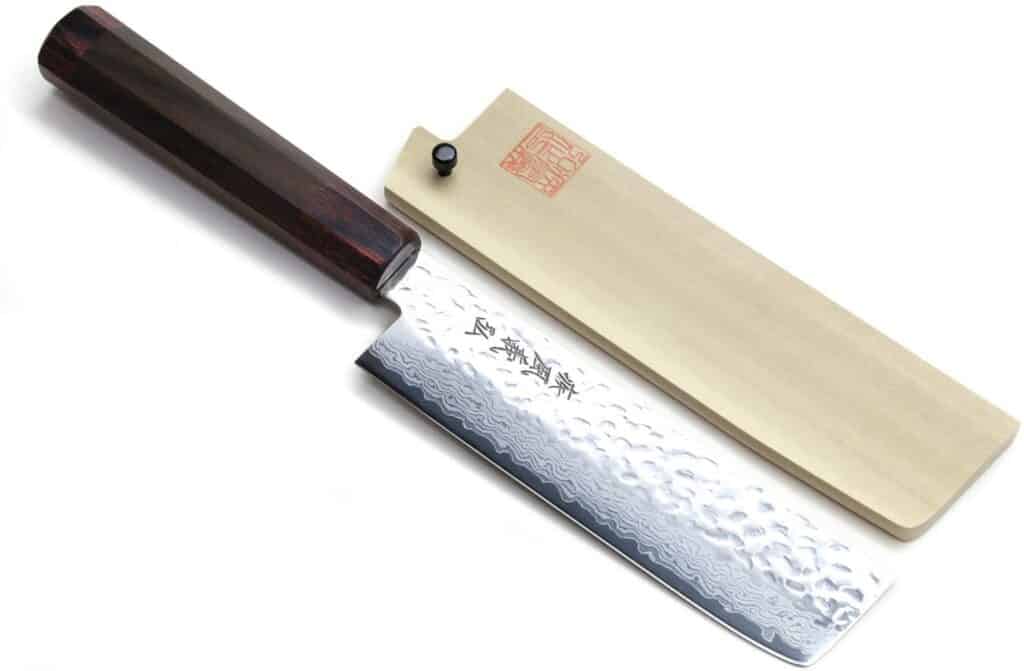 Home cooks are getting more and more interested in Japanese knife design. But it can be a somewhat confusing world.
Japanese knives are full of designs that have been made specifically for one purpose. They are often quite different in appearance to what you might expect from a western knife.
One such Japanese knife is the nakiri. At a first glance the nakiri is similar in appearance to a western meat cleaver, but it's actually designed for a very different purpose.
In fact, I think there are few other Japanese knives that the uninitiated cook would find so difficult to guess what it is really used for.
In this article I'll discuss exactly what a nakiri knife is, I'll look at its design, what a nakiri knife is used for and I'll give some personal recommendations of nakiri knives you can buy.
A nakiri knife is a Japanese style of knife with a relatively straight edge on a rectangular blade, much like a western meat cleaver in appearance but with a much thinner blade. Nakiri knives are used for cutting vegetables. The thin, flat and very sharp blade allows for a quick up-and-down cutting motion so vegetables can be quickly and precisely cut.
What is a nakiri knife used for
A nakiri knife is specifically used for cutting vegetables.
It may look like a meat cleaver, but it's far from it. Meat cleavers have thick blades, they are heavy and therefore ideal for slicing through thick heavy meat and cutting through bone.
Nakiri knives are not like that. They have relatively thin blades with a double bevel sharp edge. The blade edge is quite flat which allows for a smooth precise cut through the vegetables.
Nakiri knives can be used to cut through any soft vegetable such as onions, tomatoes and carrots.
They are generally not suitable for vegetables that contain hard stones such as avocados as the stone could damage the blade.
How do you use a nakiri knife
Using a nakiri knife is somewhat different from a classic western chef's knife.
Firstly, the blade edge remains relatively straight and flat right along the blade, unlike the typically more curved blades found in western knife design.
That means that a nakiri knife is designed for a up and down motion, rather than the rock chopping motion of many western knives.
To use a nakiri knife you should hold the handle firly on one hand. You can choke the blade (gripping the blade with your thumb and finger) to help increase your control over the knife if you wish.
With your other hand hold the food, bending your hand into a claw like shape so it is your knuckles, not your fingertips, that protrude out the furthest towards the knife blade, that'll help prevent you from cutting your finger by accident.
The simply move in an up and down motion with the blade through the vegetable, as you get more used to this technique you'll be able to go faster.
What is the difference between a nakiri knife and a santoku knife
Both the santoku and nakiri knife can be used to cut vegetables. The main difference in principle is that the nakiri is specifically designed to cut vegetables only, whereas the santoku is designed for a range of tasks, including vegetables, meat and fish.
In design they are very different, santokus are more likely to have a slight curve along the blade edge (although not nearly as large a curve as many western knives), the blade on a santoku is also usually thicker than a typical nakiri.
They can ultimately both do the same job but the nakiri is the vegetable specialist. You'll generally be able to cut more precise cuts, more quickly in vegetables with a nakiri than you could with a santoku.
The benefit of a santoku is its versatility, since it can be used for a wide range of tasks it's the Japanese knife that has gained popularity in the west more than any other Japanese style.
If you're just dipping your toe into Japanese style knives and want to start off with a bit of an all-rounder first then a santoku is a good way to go.
I've written an in-depth article about the best santoku knives on this website if you want to learn more.
View my best santoku knives article (opens new tab)
Is a nakiri knife worth it
This really depends on you. If you're a keen home cook who likes to have the right tool for the right job then yes nakiri knives are worth the investment.
Ultimately, cutting vegetables is one of the most common food preparation tasks a cook has, whether they're a home cook or a professional chef.
So if you're keen to use some Japanese style knives in the kitchen then a nakiri is a great choice. Even though it's a specialist knife you'll end up using it pretty much every day since we all should be eating vegetables every day.
In my view, that makes a nakiri a pretty easy purchase to justify. People fill their kitchens with well-known, but seldom used products. Slow cookers, filleting knives, that grilled cheese maker and seven different bottle openers.
But very few people seem to invest in specifically designed tools that are actually useful for everyday tasks, and that's exactly what a nakiri knife is.
If you do choose to get one, I'd almost guarantee it'll be one of your top two most used knives in the kitchen, and will continue to be for years.
My best nakiri knife recommendations
I've got three recommendations that are basically down to your budget.
The premium choice, which is an absolute beauty of a nakiri from one of Japan's very best knife producers. Honestly, you could hang this knife on your wall and just call it art.
My recommendation, which is a sensible balance between price and function. It has a typical Japanese design but uses german steel for added durability, all at a reasonable price.
The value choice, which is a darn good knife for the price but it isn't going to win over any die-hard Japanese knife enthusiasts.
For a review of each one just take a look below.
Yoshihiro hammered Damascus 6.3 inch nakiri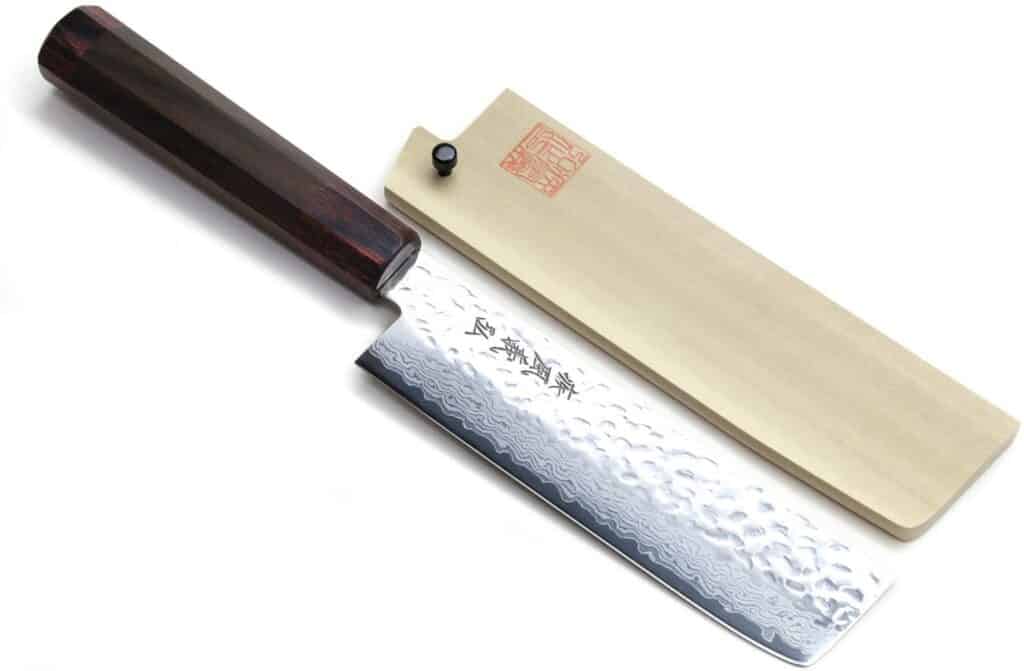 View on Amazon (opens new tab)
Yoshihiro are a Japanese knife manufacturer that makes truly incredible knives. They use the best materials and employ the very best in Japanese design to create an end product that is not only practical but beautiful too.
It's not just this nakiri, their entire range is extrandnary, and if you're interested in the best of Japanese knives then I would highly recommend taking a look at what they offer.
This particular knife uses a 46 layer VG-10 hammered Damascus steel for the blade, making it extremely strong and also stunningly beautiful. The folding technique used in damascus steel results in the flowing water patterson on the blade surface.
The handle is made from shitan wood, an extremely hard timber and it has a mahogany handle.
In the typical Japanese style it's short, at a length of 6.3 inches, that's the length of the blade, not including the handle.
A smaller knife means more control, and since the rock chopping technique is not used with a nakiri knife the length needn't be much longer than the food being cut.
Dalstrong hollow edge 7 inch nakiri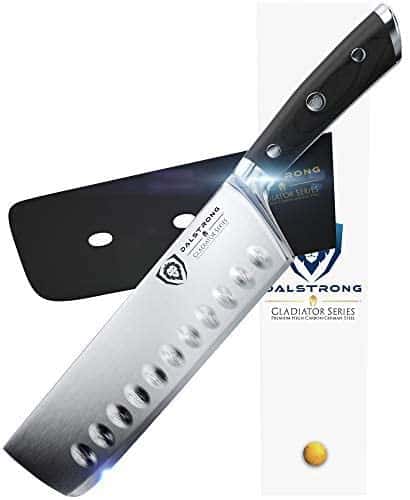 View on Amazon (opens new tab)
You can also rely on Dalstrong to make a quality knife with quality materials, this nakiri included.
Dalstrong produces a range of Japanese styled knives that often use german steel.
Don't get me wrong, Japanese steels are superb. The best are ulta strong and can be sharpened to an incredibly fine edge.
However, they can often be more brittle and susceptible to rust. German steels tend to focus on durability and in many ways that's a feature that's just as important.
This Thyssen-Krupp steel is high carbon whilst still being 15% Chromium. Chromium is the agent that makes stainless steel knives resistant to rust and a 15% quantity is very resistant to rust.
You won't generally find knives that venture beyond an 18% Chromium content so this isn't too far off as good as you can get.
The blade edge has a row of hollowed dimples, that reduces the surface area of the blade, thus making it less likely for food to stick to the blade.
That's especially useful when quickly cutting vegetables as you want the cut slices to fall away from the blade quickly.
It's a quality knife, and it's added durability makes it ideal for home cooks, especially if you have a family kitchen.
Mercer Genesis 7 inch nakiri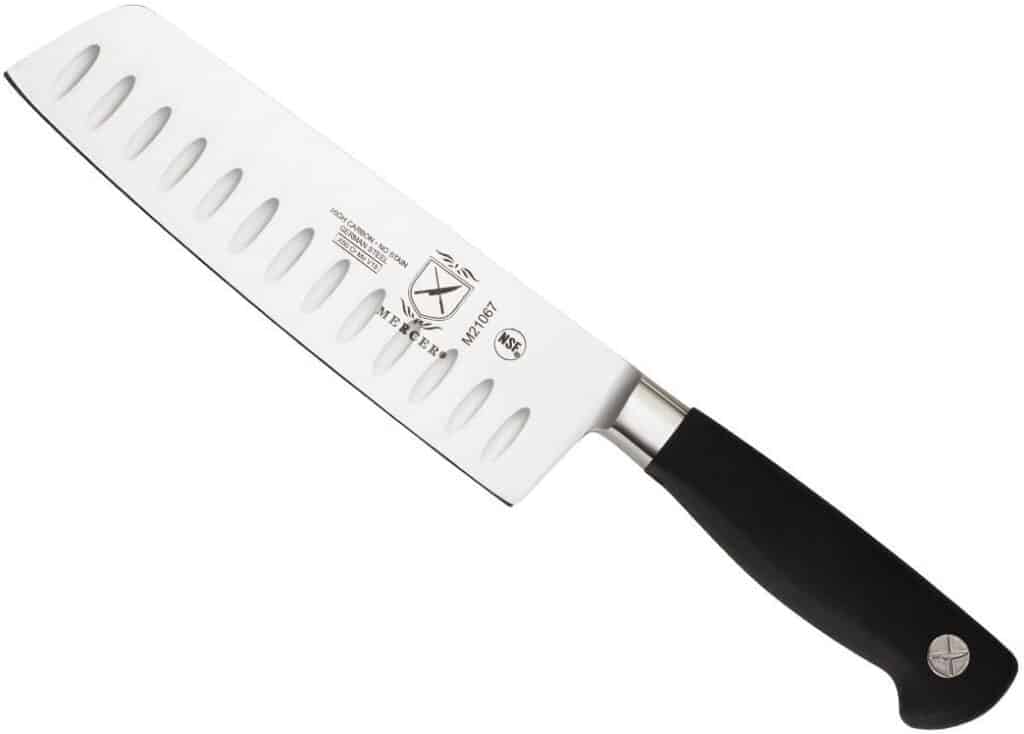 View on Amazon (opens new tab)
Mercer is often a good go-to brand if you're looking for quality that doesn't break the bank.
This knife uses another german steel, x50CrMoV15, catchy name right.
That steel contains 14% Chromium which also makes the Mercer pretty resistant to rust. The Santoprene handle is a thermoplastic which means it's pretty hard wearing. It's a typical example of finding a way to reduce the cost whilst retaining a good level of function.
The Mercer also has a hollow edge to stop food sticking to the blade and all round it's a well designed knife. The materials are of sufficient quality to make it durable and comfortable to use and it's available at a very affordable price.
It may be my value pick, but if you're just getting interested in the world of Japanese knife design but don't want to go all in on the Yoshihiro types knives then I certainly don't think you'll be disappointed with the Mercer.