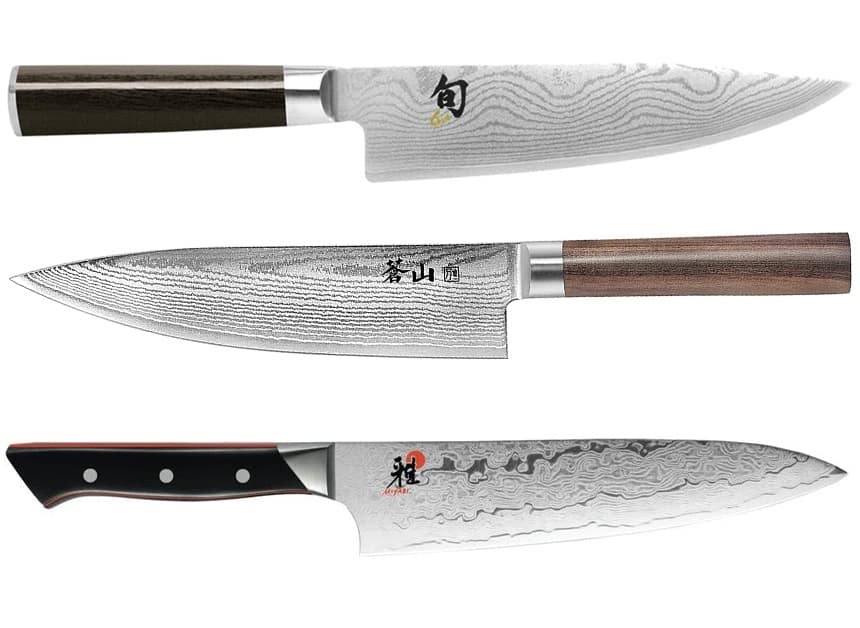 The Damascus technique is quite incredible. Its process involves folding layers of steel and mixing with other elements to produce a distinctive mottling pattern in the blade.
This ancient steel forging technique produces a blade that is both beautiful and tough. it can be sharpened to a resilient sharp edge to make it highly functional for a wide range of cutting motions.
What's more, in addition to holding a sharp edge, the Damascus technique of forging the steel for these knives makes them beautiful as well as functional.
In this article, I'll show you seven top knife brands in the cutlery industry. Some of these knives come from relatively new cutlery companies, while others come from knife makers that herald from a long and ancient tradition.
The one thing they all have in common is that they produce high quality knives, using the best materials and traditional Damascus forging technique.
My personal recommendation of the best Damascus knife is the Shun Classic 8 Inch Chef's Knife. Shun make incredible knives, they are durable, beautiful and very ergonomic. They are one of the best known Japanese knives makers in the world and this Classic 8 inch certainly won't disappoint.
In a hurry?
You can take a look at the Shun Classic 8 Inch Chef's Knife on Amazon here.
The Best Damascus Chef's Knives
Here's the summary table of my favorite Damascus chef's knives. There's a range of prices and styles but all these knives use very high-quality materials and are produced by well-known and respected knife manufacturers.
For more information and a detailed review of each knife just scroll down below.
Yoshihiro 9.5 Inch Chef's Knife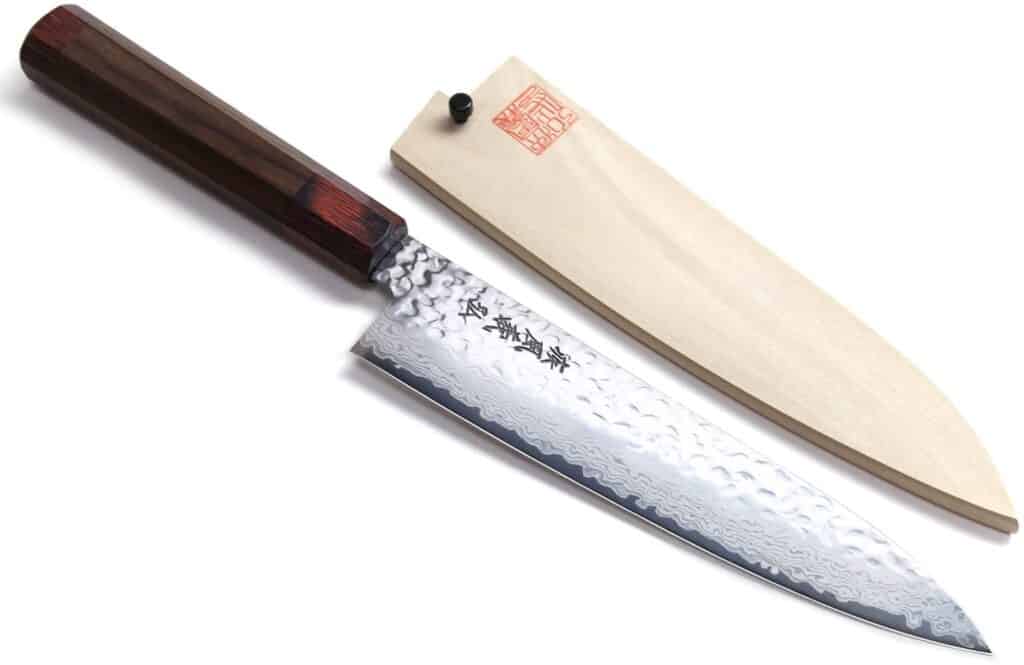 View on Amazon (opens new tab)
Pros summary:
Handmade artisan craftsmanship.
Beautiful etching design on the blade.
A well balanced, versatile, and functional, yet highly aesthetic knife.
Comes with a magnolia wooden sheath, called a Saya, for both protection and added aesthetic appearance.
This rosewood handled "Gyuto" essential chef's knife is a 46-layer, double-edged blade, multi-purpose knife. The handle is an octagonal-shaped Shitan Rosewood, with a mahogany double bolster, and a balanced fit for comfortable handling.
The stain-resistant blade is made with layers of steel forged and hammered in the Damascus style, with a VG-10 core. The VG-10 grade offers a hardness standard that is better quality than most knives on the market. This hardness standard means that the cutting edge can be sharpened more finely for better cutting. The hammered texture on the blade also eliminates friction and helps keep food from sticking while cutting.
The Yoshihiro brand is well known for its quality as the knives are handmade by knife smith artisans according to the company's specific quality standards. The Yoshihiro brand has only been marketed internationally since 2008, making it difficult to find outside of Japan.
Shun Classic 8 Inch Chef's Knife

View on Amazon (opens new tab)
Pros summary:
The strength and balance from the full tang.
Handcrafted by knife smiths in Seki, Japan.
Corrosion-resistant.
It comes with a limited lifetime warranty.
This 34-layer stainless Damascus cladding steel blade is hand-sharpened to a 16-degree angle double-beveled edge. It has a D-shaped ebony Pakka wood handle that is strong, durable, and moisture resistant. Pakka wood is made from a technique of fusing thin sheets of white birch with plastic resin under high heat and pressure. An added feature is the full tang, which provides extra strength and balance.
The proprietary VG-Max steel is a high-performance blade with a razor-sharp edge that provides a high degree of edge retention. Shun blades are handcrafted with a process of grinding and bead-blasting that creates a flowing pattern in the layered steel. The result is a sharp, durable, and beautiful creation.
The Shun Cutlery brand introduced to the Western market a thin, sharp, lightweight precision style knife edge. Though a relatively young company, the Shun tradition goes back a century earlier and is based in Seki, Japan – a city with a blade-making tradition that dates back more than 800 years. The Shun standard continues in the ancient tradition of quality.
Miyabi Fusion 8 Inch Chef's Knife

View on Amazon (opens new tab)
Pros summary:
The comfortable handle is designed for tireless cutting.
A beautiful flower Damascus look on the blade.
The exceptionally sharp and thin Honzabuke edge allows for precision cutting.
Handcrafted in Seki, Japan.
This 65-layer, VG-10 super-steel Damascus "CRYODUR" steel blade has a 9.5 to 12-degree edge that is manufactured to exacting standards. The blades are hand-honed, using a three-step Honbazuke process that is ice-hardened to Rockwell 60 strength. The blade has a flower Damascus design with a katana-style edge.
The POM handle has a design that fits comfortably in your hand and has a Western-style thickness at the end to prevent slipping.
The Miyabi Fusion brand combines fuses Western inspired ergonomics with authentic Japanese super-steel blade styles. The brand is part of the Morimoto Edition as part of Chef Morimoto's trademark.
Kasumi 10 Inch Chef's Knife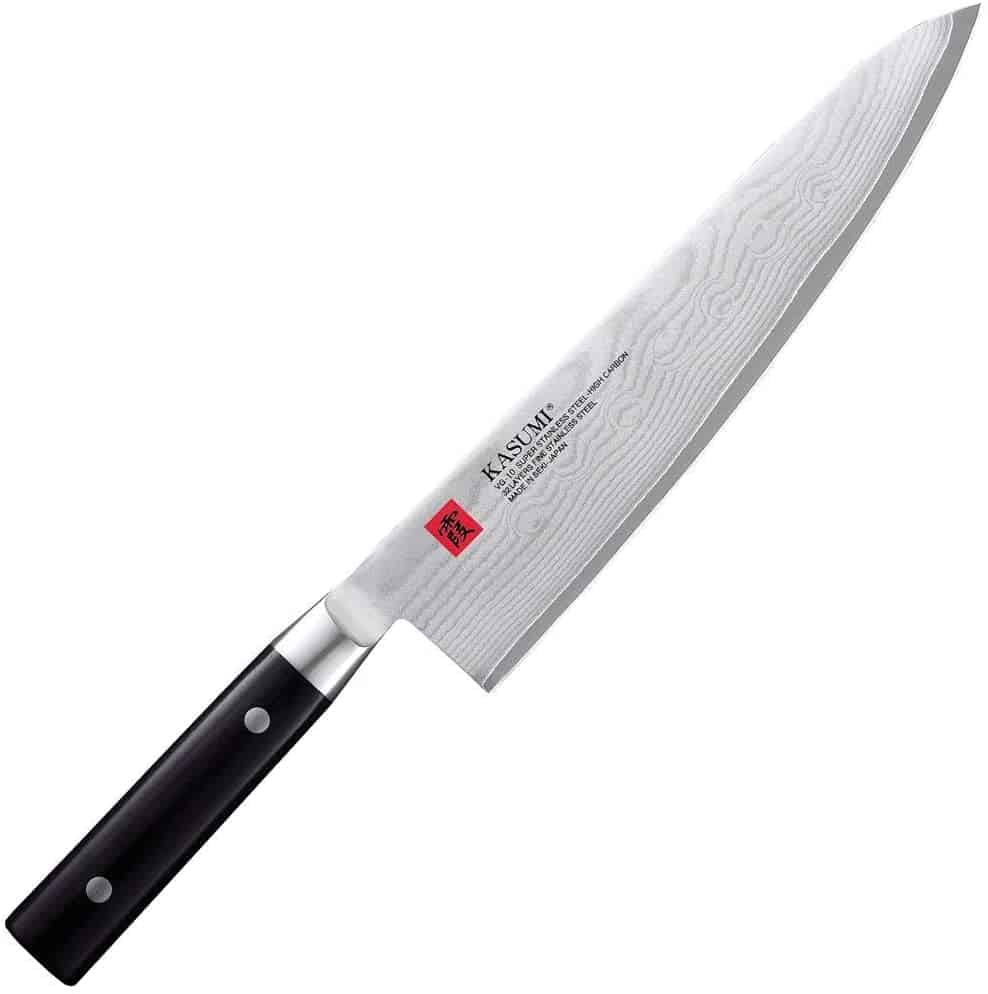 View on Amazon (opens new tab)
Pros summary:
A durable blade made by a special trade secret process.
Its large double-beveled blade.
The asymmetrical style handle.
The knife blade and handle are dishwasher safe.
This 33-layer Damascus steel blade, manufactured by Sumikama Cutlery of Seki, Japan, has a beveled edge that is larger than bevels typical of European and American made blades. The middle layer of steel, which makes up the cutting edge, is a V-Gold No. 10 high carbon stainless steel.
The durable steel is made up of cobalt, manganese, molybdenum, and vanadium which aids in sharpening and in keeping the sharpness of the blade. This process of adding cobalt to the steel requires a special tempering technique which is a brand secret. Sumikama specializes in producing knives made from advanced materials and techniques.
The blade is complemented by an asymmetrical handle made from the Pakka wood technique of fusing multiple layers of wood with plastic resin. This specialized wood is riveted to a full tang. The Pakka wood handle is easy to clean and is dishwasher safe.
Zelite Infinity 8 Inch Chef's Knife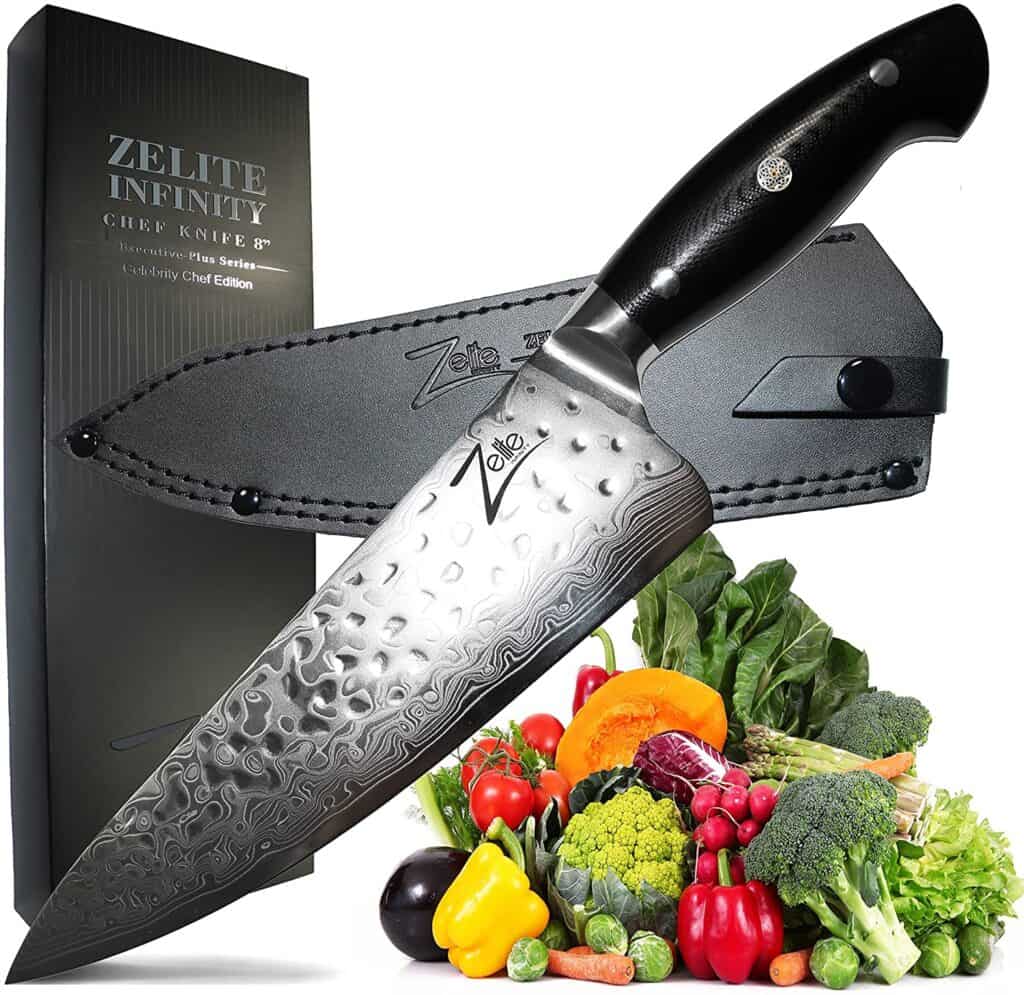 View on Amazon (opens new tab)
Pros summary:
The knife comes with a stylish leather sheath.
The blade size is designed to protect the user's knuckles.
The blade is designed to accommodate a rocking motion while cutting.
The knife comes with a lifetime warranty from manufactured defects and a 100% satisfaction money-back guarantee.
This 45-layer high carbon stainless steel Damascus is graced with the renowned Tsunami Rose Damascus pattern and the hammered Tsuchime finish. The special 57mm deep blade provides maximum knuckle clearance and has an AUS-10 blade heel.
The tapered bolster Zelite blade is designed to be used with a rocking style cutting motion. The stainless steel blade is tempered to Rockwell hardness HRC 61 and liquid nitrogen cooled. The traditional 3-step Honbazuke method is used for finishing the blade to a 12-degree per side pro razor sharpness.
The handle features a humpbacked triple-riveted full tang handle. This innovation is specially designed to fit your hand for perfect function, comfort, and balance.
The Zelite brand, though new to the industry, made an important contribution to the chef's knife world when bringing together the easy maintenance benefit of stainless steel and the sharpness of high carbon steel. This innovation eliminated the dilemma of chefs needing to choose between sharpness and ease of care.
Dalstrong Shogun Series 8 Inch Chef's Knife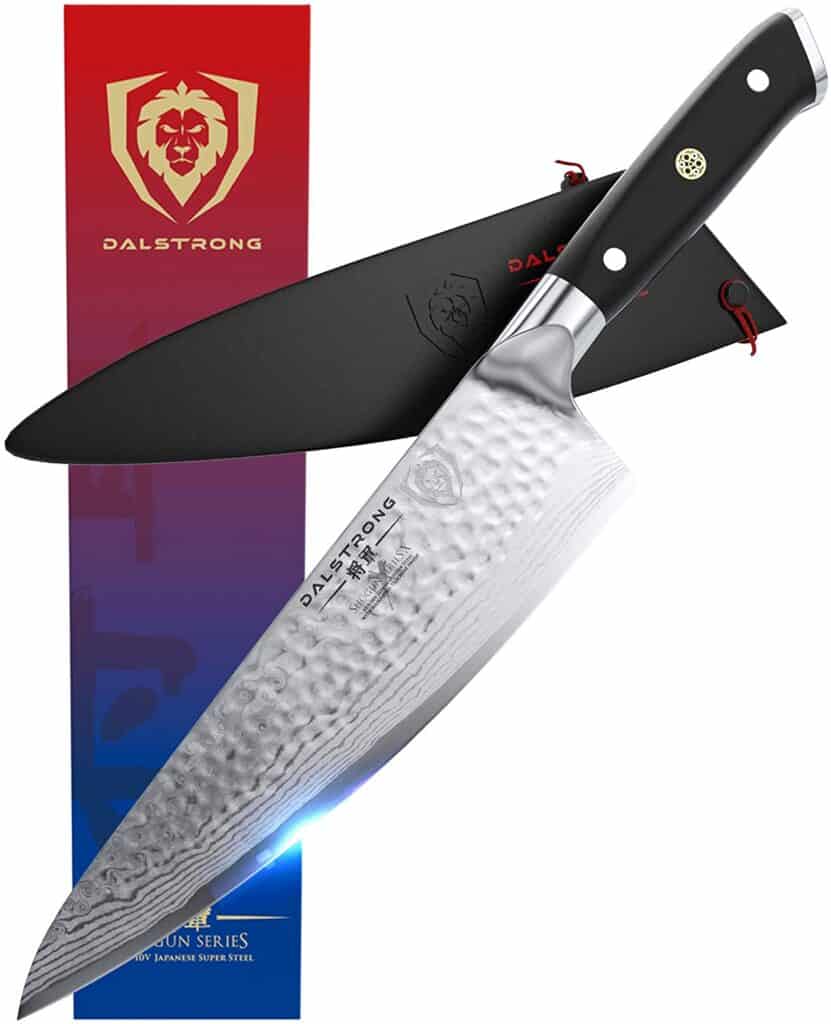 View on Amazon (opens new tab)
Pros summary:
The well designed special featured handle.
The high-quality material crafted workmanship.
The beautiful aesthetic quality construction.
The customer support, lifetime warranty against defects, 100% satisfaction, and money-back guarantee.
This 66-layer Tsunami Rose Damascus steel blade is made with corrosion-resistant high-carbon stainless steel. It has a super steel cutting core tempered to 62+ Rockwell hardness. The ultra-sharp AUS-10V edge is vacuum heat treated and nitrogen cooled for strength and sharpness.
The blade is edged with an 8-12 degree angle per side. The blade is then finished with the traditional three-step Honbazuke method and polished to a mirror finish. The finishing touch is the distinctive Dalstrong lion head logo etched into the blade near the bolster.
The ultra-premium G-10 Garolite full tang handle is hand polished, balanced, and ergonomically shaped for comfort and agility. The 55mm blade is designed for better knuckle clearance and the spine is smooth for a natural pinch-style grip. The handle has a copper mosaic pin adorning the center rivet and has an engraved end cap. The blade also comes with a perfectly fitted sheath.
The Dalstrong company stands by its products in every part of the process of manufacturing, packaging, and marketing its high-quality knives. They stand by the community of chefs who use their knives as well by sponsoring cooking competitions, charity events, and true caring for customers who use their knives.
Cangshan J Series 8 Inch Chef's Knife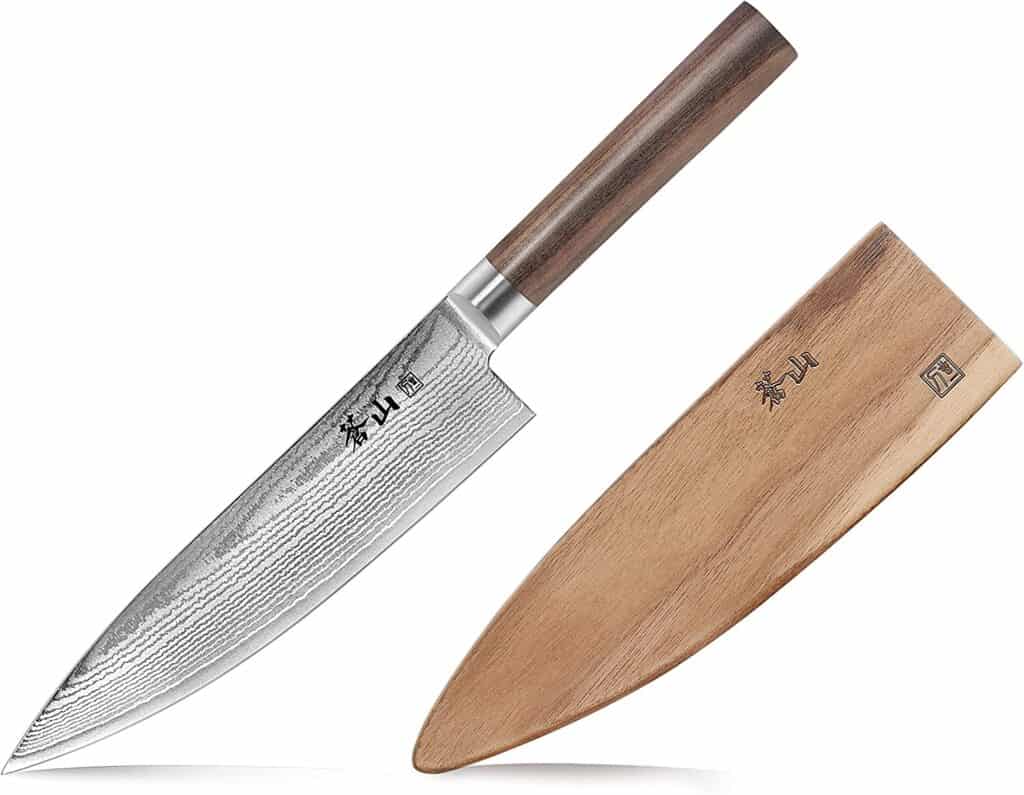 View on Amazon (opens new tab)
Pros summary:
A limited lifetime warranty.
A good combination of forward-thinking balanced function and aesthetic beauty.
A unique handcrafted artisan construction.
The blending of Eastern and Western chef's knife design features.
This 67-layer, special formula Changsha X-7 Damascus steel blade is forged with HRC 60 plus or minus 2 on the Rockwell Hardness Scale. The blade features an exceptionally sharp 16-degree edge from the use of Japanese VG-10 steel and heat treated with a precise ULTRA 6 treatment. The Damascus layering makes a beautifully unique pattern and the high carbon steel ensures stain resistance, durability, and strength.
The unique handle design (patent pending) uses a rich ultra-dense African Blackwood. The well-balanced knife is designed for a wide versatility of food preparation needs. The handle is designed to accommodate a natural pinch grip. All seams are flush and secure making for both a quality look and a comfortable feel, suitable for long duration use. Each knife comes with a magnetic dark walnut Saya-style sheath.
Cangshan Cutlery opened for business in 2015 after extensive market research into the making of quality chef's knives. What is unique about Cangshan products is the blending of style and performance designs of both the East and the West. The result is a knife favored by top chefs for both its function and beauty.